War Chest: Jacob
Dink Flamingo
2016-07-27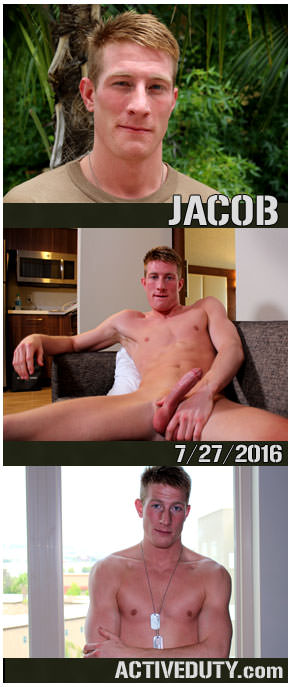 Hey Troops,
It's a proud pleasure to introduce our newest tasty lad,
Jacob
! I know plenty of you troops have a thing for redheads (I know I do), so I'm sure Jacob will be the smash hit of the Summer here at AD. But there's plenty more to love about this strapping new recruit than just his
incredible hair
!
Jacob just comes off as warm. He's friendly as he chats with Claude, laughing and seeming very comfortable shootin' the breeze. And he's an interesting guy! Jacob is a house flipper, which takes smarts, knowhow, and lots of stick-to-itiveness. I think you'll find his moxie stretches into his masturbatory practices as well!
Once Claude gives him the go ahead, Jacob doesn't hesitate to pull off his shirt and let us have a peek at his undergarments. Wow, Jacob is strong and lean. His skin drives me absolutely wild as he warms up his cock in his underwear. And once he takes off his blue boxers, we see a
fat dick
that Jacob oils up right away.
He's already hard once he gets going and I love that Jacob likes to use PLENTY of oil. From start to finish, he's sure to make use of that sweet lubricant to jerk his happy meat. He gets a little more comfortable on the couch, after a while leaning back to recline and continue to put some nice work into that swollen cock. Jacob does a great job of using his other hand to feel up and down his body, rubbing over his powerful pecs and
tight tummy
.
Claude gets some great shots from above, showing us Jacob's whole body as he works that thick boner. We get to see Jacob go to his feet and then look down on us as he jerks. This is a great perspective to really get an idea of the wonderful shape of
Jacob's strong erection
. He looks longingly at us we look back up at him, hoping some of that lube might incidentally speckle us on the face!
Then it's back to the couch for more stretched out pleasuring. Jacob kicks one leg up on the couch and we remember he still has those
sexy socks
on his feet! Claude gets low and tight just at the right time: Jacob decides to play with his hole for us. I have a hunch Jacob likes to experiment. He's sure in the right place, eh Troops?!
Finally, we see Jacob shoot a nice,
hot load
all over his beautiful stomach. Jacob is a little bit business, a lotta bit fun! This guy is gonna add a lot of character and complexity to the squad and bring up the level of variety and experimentation in a big way. Mark my words, Jacob will soon be an integral part of our sweet little troop!