War Chest: Jake Bane
Dink Flamingo
2017-04-19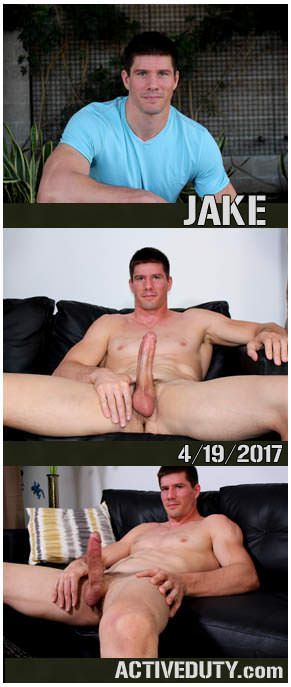 Hey Troops,
Today's recruit is a tall hunk of a man who really wants to impress you so he can come back and get down and dirty with one of our vets.
Jake is 6 foot 4
, weighs 205lbs of hunk and a ripe young age at 26. When Jake isn't in our studio testing out his limits he's usually working on his skills in the MMA world.
Jake gives us a small intro into his world and then he slowly takes his shirt off revealing his chiseled chest.
He's smooth and has an innocent look
to him but he's far from it. By the time he is fully naked his long legs are spread far and wide showcasing his muscles in every direction as he pulls up and down on his thick cock.
His
big manly hands
grip his thick shaft as he eye fucks the camera. Claude gets under the sexy giant with a shot focusing on his big balls as he strokes his dick. You can see the definition in his extremely
strong legs
as he plays with himself.
Jake relaxes back on the couch and Claude gives us a beautiful bird's eye view of this manly man. You can see just how big this hunk is from above plus his
meaty cock
as he continues to stroke and rub his body.
His slight moans of enjoyment bring him ever so closer to his release that he has been building up for us all to see. His long legs lay out in front of us as
he beats his dick
faster. Jake has dreamt of being on camera and this will be his first time ever blasting a hot load for all to see.
Finally his balls are full and he gives Claude the cue that his nut is about to release and with a few more strong gripped strokes on
his sexy thick dick
he erupts with pleasure as that creamy nut shoots all over his wide built chest. He's relived and even more excited about what is next to come as he tells Claude all in his exit interview.