War Chest: Jake Grey
Dink Flamingo
2016-08-24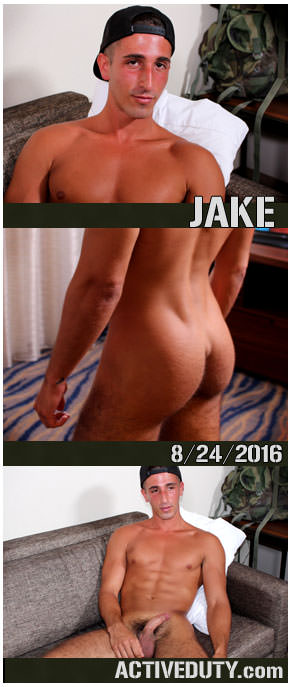 Hey Troops,
This is
Jake Grey
and he's quite a looker! Jake comes to us a fresh, inexperienced recruit who's willing and ready to strip down for his very first time on camera. From his little chat with Claude, we learn that Jake is an arty type of guy who enjoys music and, of course, working out. I found Jake intriguing right from the start, and he sure kept my interest until the end.
Jake is soft spoken, but also exudes a quiet tough guy vibe. Once Claude gives him the green light, Jake takes his time warming up, feeling his bare chest up and down, letting us imagine his hands are ours. Once the pants come off, Jake's cock is already fattening up, so Jake is sure to use
plenty of oil
to lubricate the process moving forward.
He remains nice and laid back the whole time, enjoying the porn Claude provided, just like he was in his own living room.
From the looks of it, I think Jake will be an excellent addition to the AD squad. He has the right attitude and couldn't be a more tempting physical specimen. And that
bubbly ass
don't hurt neither! Join Jake here on the couch, feel free to take a load off. Enjoy the nice, close looks Claude gets of Jake's strong hand
jacking that throbbing cock
. I think Jake will win a whole lotta hearts. I know he's already won mine.