War Chest: Jake Shepard
Dink Flamingo
2018-05-30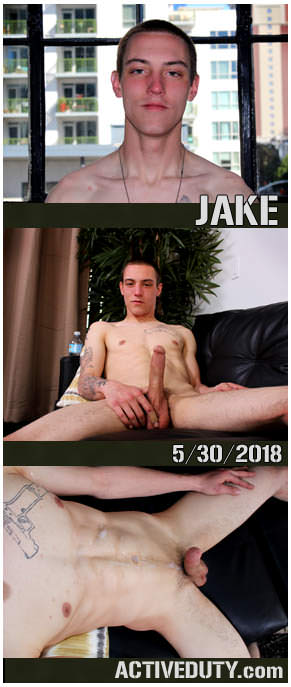 Hey Troops,
Our new recruit this week is sexy Jake the Shepard who is only 21 standing at 5 feet 9 inches and only 180lbs. Jake is an explorer in the ways of sex and lots of fun adventures. He has come to the right place to explore and let's see what he has to offer.
Jake seems timid but reminds me of a famous rapper with his slim body shape and inked chest. Once Jake pulls out his
hard cock
you can see him in the moment as he builds up his
creamy load
. His
thin smooth body and youngish looks
make him for a great contender to possibly meet one of our elite vets.
His
low hanging balls
show off his fur as the dangle to and fro with each tug of his hard shaft. Jake loves sex and he's finally coming out of his shell at the right age and here at AD we have the best soldiers to show him how the battle field works.
Jake continues to stroke his
hard throbbing cock
with a firm grip. I'm sure he wouldn't mind bending over one of our soldiers if he really is down for some
exploration
.
His breath picks up as his balls have built up a load and he can't hold it in any longer so he unleashes a
huge thick creamy load
shot after shot all over his smooth ripped chest.