War Chest: James Devlin
Dink Flamingo
2016-11-09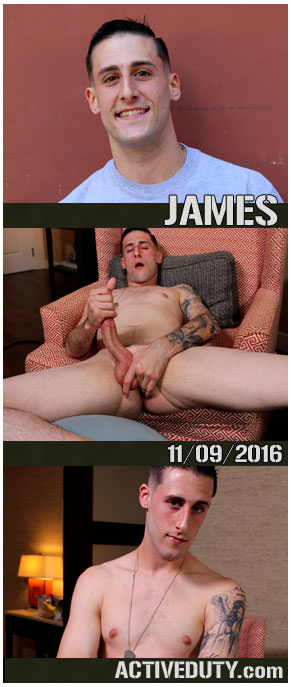 Hey Troops,
From head to toe,
James Devlin
is simply smokin'! I love seeing new recruits like James. He's the perfect combination of
handsome
and lean that rounds out our roster and adds just the right flavor. He has a smile that'll, all by itself,
harden your cock
, and a cool, laid-back vibe that draws you in and puts you in the mood to
stroke your dick
!
Claude talks a little with James to get to know him, and we learn that James has a real soft spot for his dog. A hot guy with a passion for animals...is there anything better than a puppy lover?!
Once he gets the go-ahead, James strips down starts
fattening up his cock
. Maybe it's the dog tags, but I think James is one of those guys that was just born to be nude. His style and those tattoos, along with his haircut just come together to form such a
nice package
. And once that
dick fattens up
, I don't need to explain why this boy is amazing naked!
James really gets into a nice groove quick; he's definitely a natural. He's comfortable in front of the camera, right from the start, and I can tell he lets go of his inhibitions fast...if he even had any to begin with!
Claude moves in nice and close while
James strokes his firm erection
. He slouches way down in his chair and lets his free hand work on his nice, soft-looking balls. James knows how to give us viewers some attention, and that's something I ALWAYS appreciate. "Don't you wish you could just play with it?" he asks as we watch him tug that
greasy cock
. Yummy!
Claude does nice work, getting up high to give us a great view of the whole package here. James has a gorgeous, fair complexion. Hmmm, I knew a few fellow recruits whose skin tones would contrast very nicely with this hottie. I'll bet y'all can come up with a few great partners for James too!
Claude moves in nice 'n' tight and we see James using two hands at once to rub up and down on his stiff cock. He really uses a firm grip, giving us lots of eye contact the whole way. "What I'd do for a hot,
nice ass
right now," he says to us. Well James, next time we won't have any trouble accommodating your wish, eh troops?!
Then we get James standing, with Claude getting right underneath his
majestic cock
. Boy, that thing is a hall-of-famer. Watch James play with his
greasy balls
during this part. Gosh, I bet he's gonna make lots of fellow soldiers very happy here at AD
Join James and enjoy yourself just like he does. James sure has the attitude and the look we want here for our squad. I think he'll become a quick favorite around here. Welcome to the Troop, rookie!