War Chest: James Stone
Dink Flamingo
2018-07-18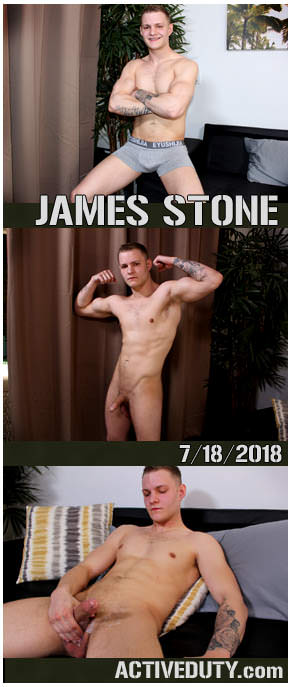 Hey Troops,
This week's fresh new recruit is James and he's only 21 years of age standing at 5 feet 11 inches and weighing in at 175lbs. James loves to go boating in the open sea and his passion is fishing. He will spend hours fishing with his family and having a great time doing it.
James is your average sexy male without the average cock. His
thick dick and sexy low hanging balls
look ripe for any vet to take advantage of. If we can get James in the war room with some top elites I think we could have a very strong manly soldier here ready to push up into the ranks.
His smooth body has just the right amount of hair as he
spreads his legs wide
so we can see every inch of that
hard dick
being stroked up and down. He has a good grip on that dick as he twists and turns it fast and slow showing it off. He glances at the camera and his stare goes deep as he builds up his nut.
James stands tall as we get to see all his glory from every direction as he continues to tug on his hard shaft. He may only have a few tattoos but once he winks at you while stroking that
meaty dick
all other distractions fall to the side as the sounds of the lube are almost hypnotizing.
This young man has it all and it's such a big turn on to us when he tells Claude that he's about to cum. Soon after he lets loose a very thick warm load of cum straight out of his dick and loads of jizz end up all over his dick as he uses his own cum as lube still stroking his cock.