War Chest: James
Dink Flamingo
2016-06-22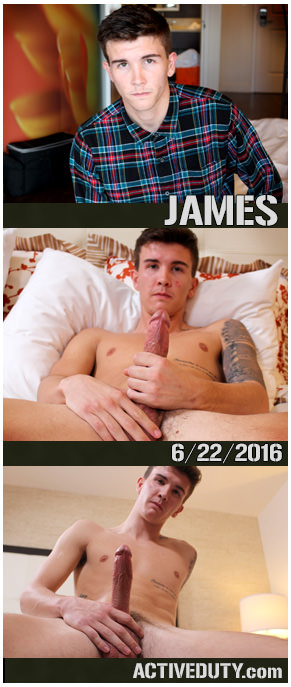 Hey Troops,
Well we have a fresh face this time for y'all to enjoy. He's a
handsome young man
by the name of James. Now if you're a
Johnny Depp
fan, you're gonna love this
new recruit
. He has the cool vibe, the boyish charm, and the
fat dick
to back it all up!
James has a bit of Southern charm that really keeps my attention. He chats with Claude a bit before getting down to the fun. James is an outdoorsy kinda guy who loves running around, chasing girls, and playing just about any sport you can think of. Once he unbuttons that flannel, we get a peek at his delicious
lean physique
. Yum, what excellent new prospect!
When he pulls down his khakis, we see a very large dong, already starting to ripen up for us. James starts out on a cushioned chair,
spreading his legs
nice and wide, seeming comfortable from the start. It sure doesn't take him long to become fully charged up, letting that
hard dick
breathe a bit.
James is the type of guy who frequently employs the use of both hands at once as he jerks his
stiff meat
. With a dick that big, I don't blame him! He definitely takes plenty of liberty with the way he strokes...he has a lot of tricks he seems accustomed to. A few of 'em involve taking care of those
luscious balls
.
If you're a balls lover, James is playing right to you. He knows how to manipulate those
sweet nuts
, that's for darn sure. Claude even comments to him that he likes to play with them, and James says of course, "it's fun to pull on!"
James moves from the chair, over to the bed where he lays out and gets even more comfortable. Claude gets some nice shots from above, and also from the bed level where we can really get a sense of how nice and swollen up
James's huge cock
is.
James moves to sitting on the edge of the bed, looking downward at us as we enjoy watching his
cock get jerked
straight up and down, nice and hard.
Claude moves underneath the action when James stands up, giving us a look at the view if James were fixin' to
cum on our face
! Boy, that dick could sure do a lot of damage on some of our
hungry-bottomed recruits
. Just wait 'til the rest of the squad gets a "load" of him!
And then we have the
pillow fucking
...WOW!! I think James has "clinched" the title on this one. I just haven't seen pillow fucking like this in...I can't remember! If that's what he does to a pillow, imagine him wrecking
Colton Phobos
's ass! James certainly has the moves and the intensity to rise to the top of the heap here at AD. Let's keep a close look out for him around the barracks.