War Chest: Jason
Dink Flamingo
2016-08-10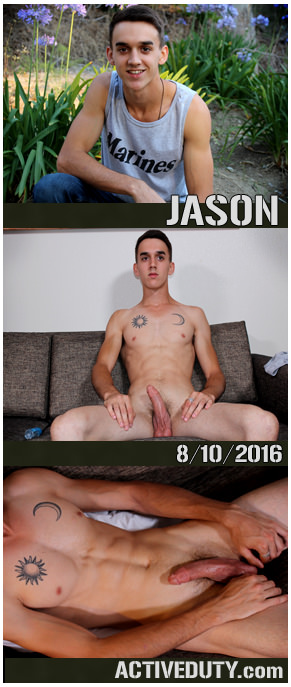 Hey Troops,
This week we have a tall sexy young man named
Jason
. He's 19 stands 6feet tall and weighs only 140. He's lean easy going and loves to skateboard all day every day.
When Jason isn't riding on his skateboard he's giving the porn thing a try and we are very glad he did.
His tanned complexion boyish smile
and overall great attitude are exactly what we look for in hopes of finding a sexy soldier to join the ranks.
He may be nervous but that doesn't stop him from gazing into the camera while he
slowly strokes his cock
for all to see. His
cute smirk and hard cock
are a beautiful sight to watch as he pleases himself. Jason isn't inked up much which is refreshing plus he really is enjoying himself on camera.
Claude has the best undershot view for the perfect angle to see his
smooth low hanging balls
swing about as he strokes his shaft. Jason's thick cock looks great with every pull of the chamber making him closer and closer to the end result we all want to see.
Jason lies back on the couch with his legs spread and beings to stroke his dick faster and faster as he is now ready to blow his load. The
nervous excited look
on his face as he gets closer to cumming is a sight to see. He checks in with Clause to make sure everyone is ready for his load and we very much are so he shoots a thick cum load on his chest.