War Chest: Jaxon D
Dink Flamingo
2017-08-23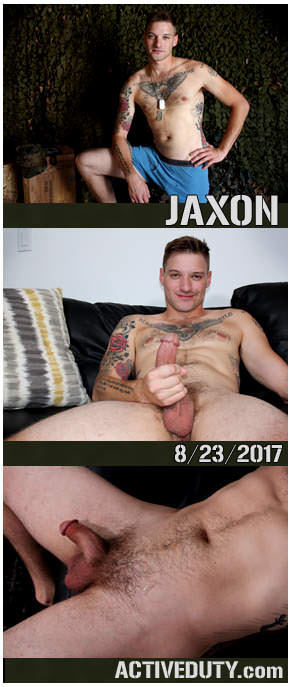 Hey Troops,
We got a happy new recruit today by the name of Jaxon D. Jaxon is in his prime at 26 years of age standing tall at 6ft and weighing in at a modest 175lbs.
Jaxon has a nice demeanor and
he's always smiling and laughing
. He can't stare at the camera for too long or he starts to giggle at himself. Claude captures his best attributes as he pans around showing us all that he has to offer.
Jaxon begins to warm up his
very nice cock
and once it's hard in his hands you can see just how lengthy it is. He has some
sexy ink
on his chest as he rubs himself while stroking that hard dick.
Jaxon has just the right amount of hair on his
sexy firm body
. He reminds me of a very well-known actor but I just can't put my finger on it.
Jaxon strokes
his hard cock very slowly revealing his long shaft.
His balls are cupped up as he continues to play with his cock. I have a feeling Jaxon will come back and be an
amazing bottom
to our eager vets if Jaxon can get your approval for another deployment back to AD.
He may be quiet as he builds up to his climax but once he gives the call to Claude we get an amazing close up shot as he
relinquishes his built up load
and it ends up all over his balls dripping down between his hairy legs.