War Chest: Jay Ice
Dink Flamingo
2017-01-25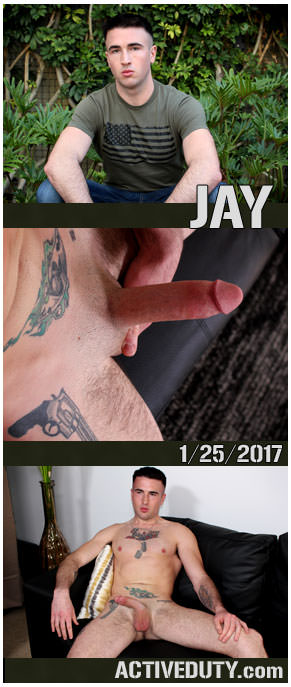 Hey Troops,
The Ice man cummeth! This is
Jay Ice
, a real genuine boy with a nice,
big cock
to show us. Now right from the jump, I like Jay's laid-back personality. He's the type of guy always with a smile on his face and something funny on his mind. If that isn't sexy enough, Jay has a hot body and knows how to make
pleasuring himself
look good!
Claude lets Jay get down to it and we discover Jay is wearing a pair of classic
white boxerbriefs
. Now it's not a look anyone can pull off, but Jay is certainly a classic guy and I think they come off extremely hot. Maybe it's just that
enormous python
hardening up inside 'em!
When that gorgeous cock comes out, Jay is ready to play. He looks just delicious naked: from those
chest tattoos
, to the hair, to his luxurious balls, Jay is one sizzling dish. Now I don't usually make this description, but Jay reminds me of a traditional military dude. He has all the natural elements of a real guy's guy: the haircut, the easy smile, the body hair, and the complexion. Jay is something slightly different, yet traditional in the same breath. What an excellent addition to the squad.
Jay beats his meat
on the couch, using one hand to tug his balls a bit. I think that tells us Jay likes a little bit of aggression with his pleasure. I like that a lot! He shoots us plenty of
sexy looks
to let us know he has us in mind as he
jerks his fat meat
.
Then Jay goes to his feet and Claude gets low and tight. What a nice view of
Jay's balls and taint
from here. He's put together very well in that department. Then we get a view from Jay's perspective, looking down on that fine, stiff dick. It's interesting to note that although Jay seems to be untrimmed elsewhere on his body, his pubes are totally shaven. Jay is a mystery that may have no solution.
Then it's back to the couch where we have another view from Jay's perspective. This is where we get to have a closer look at some of those interesting tattoos. Oh yes, I'm definitely eager to see more of Jay. He just seems like an interesting guy!
Claude takes time to get some close ups of Jay's face and chest. I love those
pouty lips
, that strong jawline, and those
sumptuous nipples
. Great stuff, Claude!
Finally, Jay reclines on the couch to crank off a hot shot of
sticky cum
. And when he does blast his load, it's quite an eruption. But wait, there's more! I'm not sure I've ever seen this happen, but somehow Jay is able to shoot another BIG,
THICK load
about 30 seconds after his first one!! Even Claude was amazed by this. Jay has tricks up his sleeve, we've witnessed that. I think this could be the beginning of a journey with some unexpected twists. Hooray for Jay and hooray for the whole squad!