War Chest: Jay Luna
Dink Flamingo
2018-12-26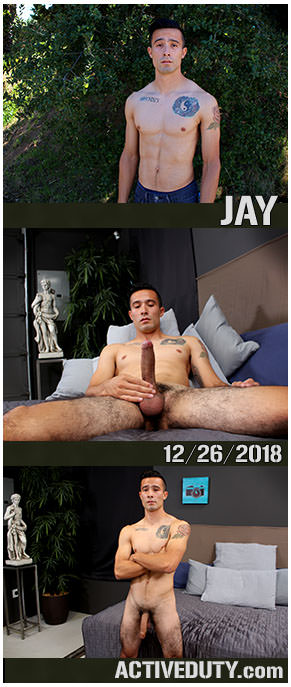 Hey Troops,
Our newest recruit today is 23 years old standing at 5 feet 10 inches and weighing in at 150lbs. Jay is an outdoors kind of man and you can find him offroading in his jeep or hiking up some trails.
Jay has a
big uncut cock
once he drops his clothes and reveals all the goodness. His smooth chest has some ink on it and as we pan down to his very hairy legs we finally see all of this unique soldier.
Once Jay makes him self comfortable on our bed his
big hard cock begins to throb
as he strokes every inch of that big piece of meat. He uses two hands and some lube so you can see how his hands glide up and down his
long meaty shaft
.
Jay's having a great time with his cock as he slaps it around and pulls on his balls.
His big full balls
get yanked by his hands as he strokes that big hard cock of his.
Claude gets all the beautiful shots and angles to show just how sexy and hard Jay is. The fun sadly has to come to an end as Jay's ball are ready to release what he has built for us. He gives the call and soon enough he shoots a hot thick load all up his chest.