War Chest: Jayden Lawrence
Dink Flamingo
2018-10-24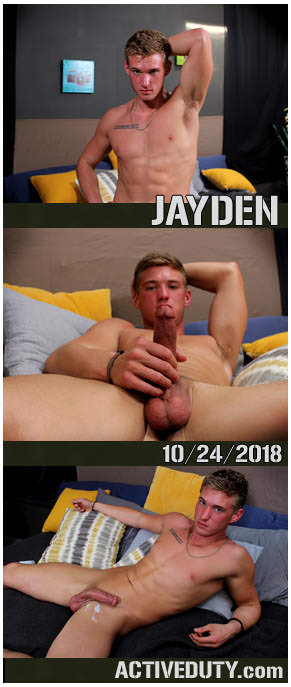 Hey Troops,
Our newest recruit today is Jayden and he just turned 21 standing at 6 foot 1 and weighing in at a very strong 207lbs of pure muscle. Jayden if you couldn't tell is a gym rat and all his waking moments are spent their. He is all about living a healthy lifestyle while keeping his body in tip top shape.
Jayden has always wanted to show off his body but he never found a suitable place to fully express himself. He finally found us and we have let him loose on the field of battle showcasing his
smooth physique and extremely ripped body
.
Jayden masturbates all over the bedroom
from the bed to standing positions and back to the bed where
he builds up his full balls
for a spectacular release. He glides his hands along his ripped abs up to his nipples as he pulls on them while stroking his dick.
His cock drips precum
as he gets closer to his climax. He strokes faster and faster while pulling on his balls until he gives the word and as soon as he does his warm soldier cum slowly begins to show itself as it escapes his cock and he cums all over his smooth body.