War Chest: Jerry Price
Dink Flamingo
2015-12-02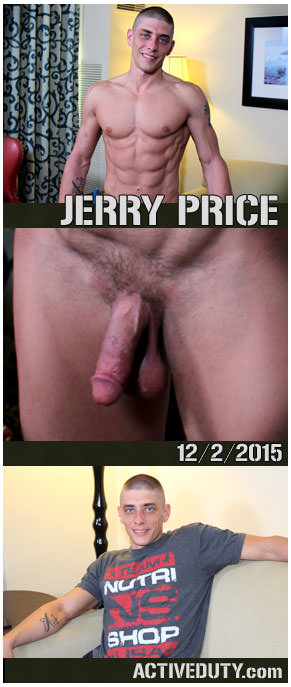 Hey Troops,
One of my favorite types of guy (for obvious reasons) is the strong
Southern gentleman
. They ooze a special, old-world flavor that's so unique and charming.
Jerry Price
is just that type of gentleman.
Right from the jump, I was lost in those incredible,
steely-blue eyes
. Jerry is otherwise extremely handsome and has a body that's ready to march into the front-lines of action. As we hear him chat with Claude, we learn that he does indeed lift weights frequently, and also enjoys hunting and fishing. Jerry is certainly a
man's man
, and I would suspect, the type of guy that knows what he likes. I'm so excited to see more of this fine recruit.
Once Claude leaves Jerry alone to get comfortable (and naked), Jerry moves to a more comfy chair and strips on down to what the Lord gave him. My sweet goodness, those abs are divine! And take a look at that
herculean cock
. If we're lucky enough to have Jerry jump into the mix with our other recruits, he'll definitely be in the running for
hottest bod on the squad
!
After Jerry gets a bit more loose and a lot more lubed, Claude comes back and gets us some really nice, tight shots of Jerry's face. I love that Jerry frequently licks his lips while looking into the camera. He has a
luscious mouth
and a very aesthetically-pleasing bone structure. He just LOOKS like a soldier. And when Claude gets in close, Jerry seems to know just how to let his
natural sensuality
draw us in. This is a great example of a recruit who's comfortable in his own skin and is great at harnessing the power of that confidence.
Now, back to that body...Jerry is very lean. He appears to almost be
sculpted from rock
. When Claude captures some excellent tight shots of Jerry's hand stroking his large, oily dick, we see a wonderful combination of exquisitely shaped physique and gruff manliness. It's easy to imagine he's used his hands before to exert force against some oxidized metal resistance.
I'm certain y'all will be surprised when Jerry erupts, in his words, "like a volcano" after only about five minutes of
tugging his swollen meat
. It is truly an epic explosion of hot juices, and one of the most outrageously heavy loads I've ever seen. Don't worry though, at this point Jerry is FAR from ending this stroke session. Like a stalwart soldier, Jerry advances further into battle,
jacking his fat stiffie
with even greater fervor than we'd seen.
Claude gets nice and low for an underneath angle that allows us to look up at the jerking Jerry, as if we were waiting for his second blast to bless us as a nice, warm shower. But it's not at this point that we see a follow up.
Jerry moves to the couch, where he seems to get even more comfortable, partially kicking up a leg and relaxing one arm across the back of the couch. After getting good 'n' tight on Jerry, really showing off the dick-hardening intricacies of his chest and stomach, Claude comes over Jerry's shoulder to give us a POV shot. This is a great opportunity to enjoy the look of those
strong hands
I had mentioned.
Around this point, we get another wonderful cumshot from Jerry. "It's another gusher every five minutes!" Claude says. Then Jerry moves back to the chair to CONTINUE
stroking his fat cock
! We get some more incredibly
hot solo action
from Jerry before he explodes AGAIN!!! And the last one is nearly as big as the first! This is a solo that will go down in the books, my friends. Jerry Price has arrived and let's all hope he drops anchor and stays with us for a good while. I can't wait to see what's next from this unbelievable new recruit!