War Chest: Joey
Dink Flamingo
2015-04-29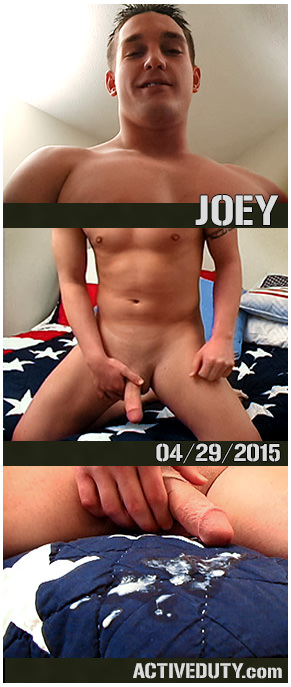 Hey Troops,
Today's War Chest is an example of one of those guys who's like a fish that keeps nibblin' on the end of the line... but then every time you think you've got him hook, line and sinker, he runs away scared. I'd met
Joey
almost a year before he came in for this scene, and the first time I tried to recruit him he said "uh uh, no way!" Of course I didn't give up on him, and more than a few times he even approached me and said he'd been considering my offer, but I was never able to get him to commit to a damn thing. Finally, just when I'd finally given up on chasing after him (after all, I've got
more than a few beautiful guys
who were more than willin' to strip to their skivvies without all these games), he gave me a call and told me he was finally ready to come in for a shoot. He was in a bit of trouble and needed some quick cash, and hell, I couldn't hold a grudge against such a hawt young mister, especially since I know what it's like to be young and reckless, so I told him to
get his tight butt into the studio for a solo
.
Joey comes from Sacramento, and at the time of his solo he was a 21 year old Marine with 3 years left of service.
He's a dude with very clear priorities
, and he said his interests are "girls, females, cars and football" in that order. He even wanted to open a strip club after he was done his tour of duty, so you can tell he's always got babes on the brain. Well, that works for me, because
it gives him a boner right quick
when he flips on that porn and pulls down his drawers.
Unfortunately, I couldn't get Joey to take the bait to take things further, but not every fish is cut out to swim with the sharks. I'm hoping that wherever he is (maybe running that strip club after all) he's still trying new things and keeping his
exhibitionist spirit
alive -- maybe every now and then he takes a turn on that stripper pole himself, who knows!