War Chest: Johnny B
Dink Flamingo
2016-10-05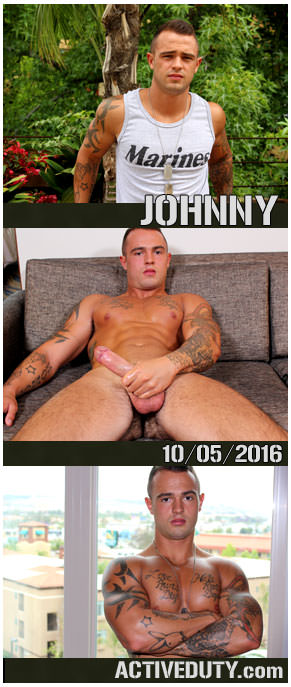 Hey Troops,
What an immense pleasure to introduce this striking young man! This here is Johnny B. Johnny is very new, very fresh, and a bit nervous about the whole idea of getting naked and masturbating on camera. That's ok...we have a way of making new recruits feel comfortable.

Johnny is just such a handsome guy, I have no doubt he'll be a huge sensation for us here at AD. He's in absolutely incredible shape and covered with some sexy tattoos. I like everything about Johnny, even that fashionably unique haircut. I love his style, right down to the technique he uses to stroke his big cock.

Claude chats with Johnny just a little bit, then we have Johnny relaxing on the couch, watching some naughty movies, and enjoying his own body. Once Johnny gets his gears properly cranked, he stands up from the couch and we get a nice look at his strong legs and luscious ass. His skin in smooth and looks silky to the touch. Johnny clearly spends a lot of time on his body, lucky for us, and it shows in so many ways.

Claude shoots him both wide and tight to give us a dynamic look at this rookie soldier. From head to toe, there isn't anything I don't like about this dude. Claude captures some excellent looks at Johnny's cock. It's well shaped and looks perfect in his masculine hands.

This is a cadet that has potential written all over him (along with several other tattoos) and I'm so excited to see him return for a little fun with some fellow recruits.