War Chest: Johnny II
Dink Flamingo
2016-06-08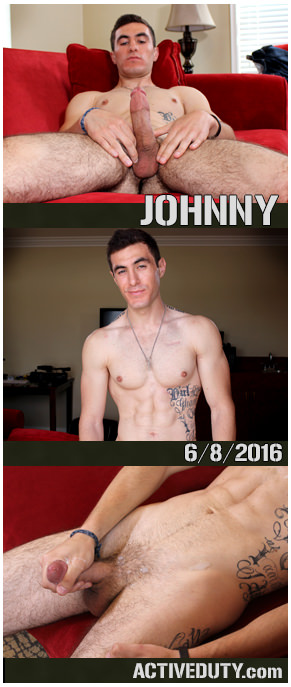 Hey Troops,
I've been thinking lately that it's high time for a prospect who exudes exactly the essence that AD stands for. Well,
Johnny
is the exactly what I've been wanting! He's a tough guy with a big heart, a
handsome
, mature man with a sensuous, soft side, and an
all-around hottie
!
As Claude chit chats with him, I get the sense that Johnny is the kind of guy that speaks sparingly, but when he does, it's something seriously deep. He tells Claude that he enjoys the gym and also
BOXING
! Wow, this IS a real tough guy we have here on our hands. I can see "Troop Leader" written all over him.
And when the clothes come off, there's certainly a lot more to get excited about. Johnny is chiseled and toned, from head to foot. A nice, masculine proportion of
body hair
sets off his strong
six-pack
and tight,
firm abs
. Oh yes, Johnny ain't slackin' in the gym! I like what we have here, boys!
Once Johnny really gets past the initial jitters (this IS, after all, his first time getting buck naked on camera), we see him get into a very comfortable stride, knowing exactly where to go and what to do. He handles his
deliciously stiff cock
with expert awareness. This is the type of guy you want for high-risk tactical maneuvering. I'd like to see him in a threesome with two guys of opposing experience levels. I wanna see how Johnny handles himself. I think we'd see some great decision making, probably even in the way of encouraging another newer cadet.
Claude gets nice and tight on all of
Johnny's assets
. I really like to see his face while he takes his time bringing himself up to that climax moment. He's really wrapped up in the sensation. Claude also shows us Johnny's
irresistible nipples
! Yum! They're small, and stand at attention as he
jerks his hard meat
. We get a shot from Johnny's perspective, looking down at his cock as it gets handled. We see something that looks like a friendship bracelet on his wrist. Maybe there's a lonely soldier somewhere out there,
thinking of Johnny
right now. Maybe Johnny's thinking of him too...ahhh, bunker nights in the Summer.
Johnny gets to his feet for a while to show us those
strong legs
. I have a lot of ideas runnin' through my head on how I'd like to put those
lean trunks
to use. I'll just say this: heaps of power, towers of strength. I'm thinkin' Johnny could plow some serious
VIRGIN recruit ass
, given the right opportunity. I'm glad he's come to the right place, eh Troops??
And then, we get to point where Johnny blasts a
serious load all over himself
. Let's keep an eye out for this one, boys, and let him know he has our support. I think we could be entering the "
Johnny Era
"!