War Chest: Johnny Thompson
Dink Flamingo
2015-12-09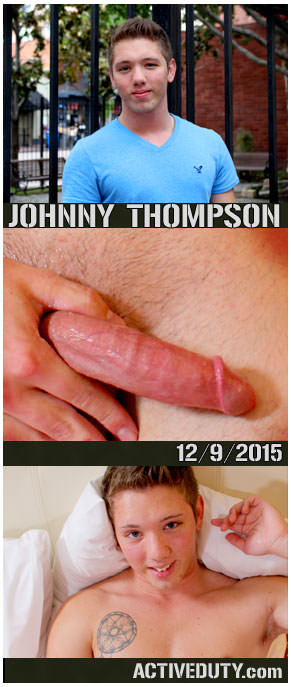 Hey Troops,
His name is Johnny Thompson and he's about the cutest recruit I've seen in...I can't remember! Yes,
Johnny
is about as fresh-faced and wide-eyed as they cum. What a treat to see a young soldier begin his tour of Active Duty! Especially one with Johnny's great energy and enthusiasm. He certainly loves
tugging his meat
here for us.
You can see in those baby blues that Johnny is
such a sweet boy
. Claude chats with him a little bit and we learn that Johnny enjoys working out and preparing healthy meals in his free time. Looking at that nice, strong body, I believe it.
Claude has Johnny start things off by
pulling out his cock and stroking
it in a cloth-upholstered, high-back chair. He slowly pulls in tight on Johnny's face and we get a nice look at Johnny's big, gorgeous lashes. He bats them at us as he looks down at his hard dick, nervous, but still having an enjoyable
first-time experience on camera
. His demeanor plays very well into his enticing innocent,
boy-next-door
look.
Johnny has a
very nice cock
. It's the perfect size and shape, really. And to go along with it is a luscious bubble that just don't quit! We get to see it up close and in action when Claude has Johnny bend over the chair and show us how sexy he can move. I have a feeling that after a little time spent among the rest of our platoon, Johnny will learn a few new hot moves! I'm looking forward to seeing that
sweet, meaty ass get pounded
.
Johnny ends up delivering a good,
explosive cum blast
, all over his chest and stomach. He worked hard this time and fought threw a little bit of nerves to give us a good show, and he was rewarded for it. That's one of the lessons we seek to teach our new recruits, like Johnny. I know he'll be diligent enough to carry what he's learned from his first time solo into his next experience.