War Chest: Johnny
Dink Flamingo
2015-09-16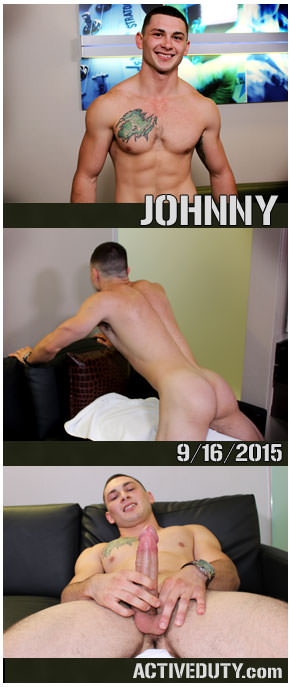 Hey Troops,
It's not always that I have such a fun time checking out a new recruit. Well this time, I certainly did. This is Johnny and I can't remember the last time I saw such an eager, energetic new addition to the Active Duty platoon.
Johnny came in and chatted with Claude for a bit before getting naked for us. He made it good and clear that he absolutely
loves having sex
more than anything, and being this was his first time on camera, I knew we were in for an extra sweet treat. That's what he said he does in his free time, for goodness sake! Claude was just eating it up and I don't blame him. Johnny is such a
cute, sweet boy
. I'm very excited to see what brand of spunky firepower he'll be contributing to our effort on the frontlines.
Johnny is nice and lean, with great muscle tone. It's easy to see this young man puts in his time at the barracks gym. In my humble Southern opinion, he has just the right amount of hair...not overboard, but enough to enjoy. I'll admit I was a little surprised when Johnny pulled out his cock. It was already VERY hard, and
BOY is that thing thick
! I wouldn't be surprised to learn that he lifts heavy weight in the gym with that big dick. And it looks so strong. The best part is how much delight Johnny gets from stroking it. After only a little while, Claude was needing to caution him about blowing his load too soon. But those looks of ecstasy on his face and the permanent grin really show how much
this boy likes to jerk his oiled-up cock
.
One of my favorite moments happens when Claude pans down slowly from Johnny's face while standing up, down to his feet where we see he's on his tippy-most tippy toes! And he'd been holding that position for quite a while! It's another testament to how much "In-the-zone" Johnny was. It's such a wild moment that comes as sort of a
kinky surprise
for a solo. Very unusual! ...but I enjoyed it.
Finally,
Johnny blows his hot, gooey load
all over himself and just after says, "I needed that!" with a hearty laugh. Claude laughs too and Johnny tells him he hadn't nutted in nearly a week. "You did need that!" Claude tells him. Then Claude gets in tight for a slow-moving shot of our cum-slathered rookie soldier. He lays on the couch, breathing in deeply and exhaling with relief, in accomplishment and satisfaction.
Claude wraps things up by taking Johnny into the shower to cool down and rinse off. With a whole lot of energy and enthusiasm, we get a bubbly send off from Johnny as he thanks everyone for the opportunity and says how hopeful he is the fans will enjoy him. I think it's safe to say we did AND that he has an illustrious future with our squad here at Active Duty!