War Chest: Jordan Graves
Dink Flamingo
2016-03-16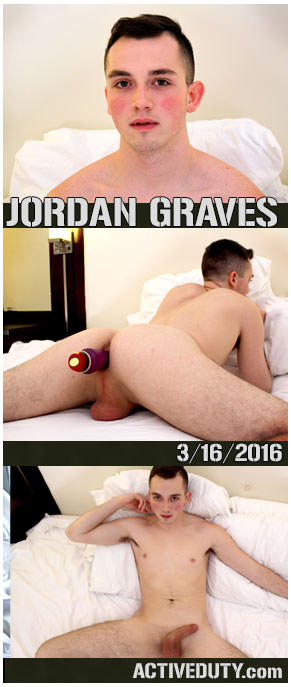 Hey Troops,
Now this is what I call a nice breath of
something different
!! This incredibly adorable, smart, funny, charming
fresh recruit
is
Jordan Graves
. Dip a toe in and ease your way into the warmth that is this exceptional
young soldier
. I'm tellin' ya! This boy will soon become the pride of the troop.
From the very jump, I loved Jordan. His outfit, especially those
socks
fit him so well. And that hair is just perfect for his face. The overall aesthetic meshes so well with his personality, there's just something about Jordan...as the French say, a certain
je ne sais quoi
.
Jordan is quiet, but open. Claude chats with him initially for a few minutes and we find out that Jordan is a self-professed
video game nerd
, but at the same time loves to participate in sports. He's a wonderful, well-rounded mix.
Jordan takes a little longer than usual to even take off his outermost garment. Once he does, we see his outrageous, yellow boxer briefs, of fairly sheer material, with something
starting to
fatten up underneath
! Aye carumba!!
Finally, Jordan pulls them off and sits back comfortably on the bed. He arranges his legs so the soles of his feet are together. It struck me as a
yoga-like pose
, which I find extremely arousing. It's spiritual, yet
kinky as fuck
.
He gets his
nice cock
hard quickly and shows us what he can do. I enjoyed seeing the way he expresses his
sensuousness
through his face. He occasionally
bites his bottom lip
, but gently. That's really the best word to describe this fine cadet in a nutshell: sensuous.
As he
tugs his swollen cock
, his feet become further apart and Jordan shows us his
gorgeous hole
. His legs and ass have just the right amount of hair and something about the look of his skin makes me imagine it's soft to the touch...and
creamy smooth
.
Jordan becomes increasingly more deviant as he works on his
fattened pole
. We see him reach a hand down and begin enjoying some
masturbatory ass play
. And from where this action starts, it's not long before Jordan pulls out a large, purple,
vibrating toy
for himself!
My goodness, the way this boy
plays with his toy
! It's something you'll remember for some time to come. Jordan starts out on his back, working the daunting dildo in and out, letting it marinate at times. Then we have him on the bed, on all fours, waving his filled ass at us. Claude's skill in finding the right tone through his shots really shines here. This solo session was just incredible, start to finish, for a lot reasons. One is certainly Jordan's
incredible cum blast
. Get comfy and make sure you're ready to be enchanted. This sweet new soldier is a MUST SEE!