War Chest: Jordan Sage
Dink Flamingo
2015-03-18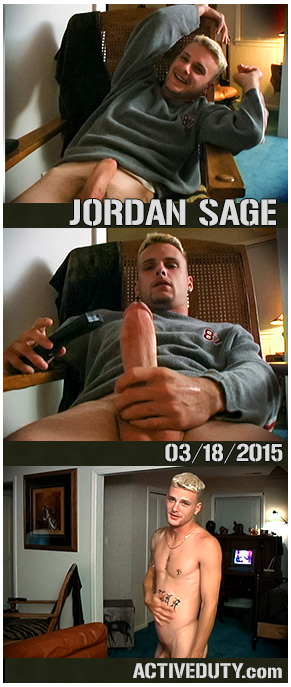 Hey Troops,
I'm gonna jump right in with this War Chest Wednesday, because that's exactly what happens in the video as we catch
Jordan Sage
already mid-jacking by the time you hit "play"!
He's beating off something fierce
, with a remote in one hand (yep, that's right, this was from a time when you still had to rewind and fast-forward to get to the sexy bits) and in his other hand, his massive tool that looks almost as big as the remote anyhow! It's a wonder he doesn't get the two mixed up more often.
Jordan's as big a tease as he always was, flashing grins and
keeping his cock upright as he strokes
so we can see just how hung that motherfucker is! It's so amazing to look at up close that I couldn't even stop myself from moaning a bit behind the camera, so please pardon my interruptions. Pay no attention to the man behind the curtain, fellas! Jordan didn't seem to mind much though, he's a bit of an attention whore so it probably turned him on even more.
After Jordan busts his nut, that's when we end up playing catch-up. He leans back and cradles his head in his arms, exhausted from his solo session, as he tells me what he'd been up to since we last shot together. There's lots of joking around between the two of us, and
he's so damn cute with a giant grin on his face
. Then he shows off his new tattoos for me (although you guys have seen them in his
later
videos
, but it's still nice to see a boy with a body like that show off so naturally). He does some stretching and you really get to see the guy in his natural element, as if he'd just gotten out of bed after a long fuck session and is about to take a piss and a shower.
Just like the video, I'm gonna end the letter the way I usually start it, with a bit of an intro/history lesson. If you don't remember
Jordan Sage
, he was one of the first superstars of Active Duty
back in 2001
, with a gorgeous chest with tight, compact muscles, tattoos and piercings to boot. He's cocky and manly, just the type of guy who makes a perfect surprise as a bottom, and you should definitely check out
some of
his earlier scenes
when you have the time. I just know you'll enjoy them!