War Chest: Joshua Kelly
Dink Flamingo
2016-10-26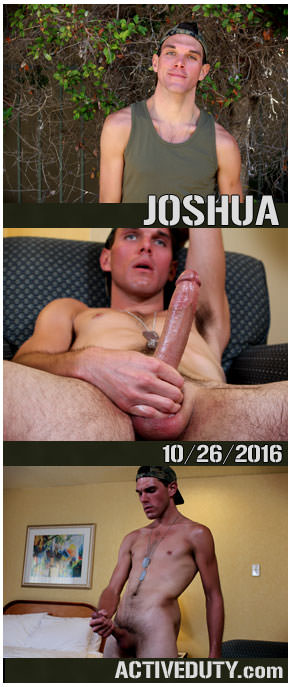 Hey Troops,
Boy, this recruit sure seems like he'll be a great fit for the squad! His name is
Joshua Kelly
and he's the type of guy that really knows how to get into the moment and enjoy expressing his sexuality. He's sure gonna be the new, hot desirable dude around the barracks!
Claude chats a little bit with Joshua to ease the tension. It turns out he likes to cook, which is good news for Claude and boys. Listening to Joshua talk with Claude, it's easy to see that he's a laid back, friendly guy...friendly
and HORNY
as we find out!
Joshua made an excellent decision wearing his dog tags for this jerk session. It certainly adds some sexiness. That backwards hat makes me think this is exactly how Josh
tugs his boner
around the house. He's casual, but in a horny mood and looking to enjoy massaging his own erection.
My goodness, Joshua uses lots of oil to lube up his big cock. I don't blame him. With a dick that large and girthy, you don't wanna take any chances! He starts out on a nice, cushioned chair, just kickin' back, stroking his stiff meat, to standing up so Claude can get underneath for a wonderful shot. We get to see Joshua's tasty balls while he lets his
hands work magic on that swollen cock
.
Claude also get a shot from Joshua's perspective. This is when I really realized how long and thick that dick is. Josh takes his time and really
uses a nice technique
to pleasure himself. His hands run all over that hard cock, slipping and sliding in different directions every few seconds. I like his style!
Then it's back to the chair where Joshua brings himself to an
incredible eruption
. I think you're gonna love this guy and I'm very excited to see him in action with a fellow recruit. Let's hope we see Josh back in action soon!