War Chest: Julian Brady
Dink Flamingo
2017-12-20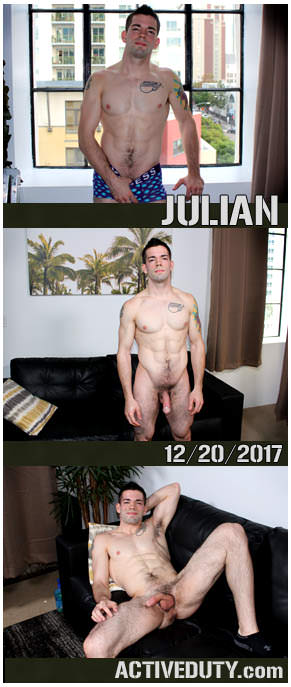 Hey Troops,
Today we have an amazing new recruit with an outstanding build and attitude. Julian is only 23 standing at 5 feet 9 inches and weighing in at 160lbs of ripped muscle. Julian loves football and is always going to games or checking his favorite team out on the TV. You can also catch him out at the park playing football with his friends.
Julian has a
great smile
that brings you right in and once you lock eyes with him you can never look away. He has
creamy white skin
with only a few tattoos and his man fur is in all the right places making him even more pleasing to the eye.
Claude lets him loose and fallows his every move with the camera showing us every beautiful inch of this very sexy man. Once Julian gets rid of all his clothes he sprawls out on out couch and makes himself very comfortable. He spreads his very
thick built thighs
wide for us revealing his
sexy balls
and all the hair underneath that
gorgeous ass
.
Julian strokes his
hard cock
fast with a bear grip as he tugs on every inch of his throbbing dick. You can see his
veins pulse
with every stroke. You would almost think he has a cock ring on but nope just lots of blood in that throbbing dick of his.
Best thing about Julian is that while he is standing up jacking his dick he
shoots an amazing load
straight up onto his chest and his cum then oozes out of his hand and he continues stroking his dick using his
cum as lube
. It's a beautiful sight to see as you can hear the cum against his wet dick. Don't worry though, he may have unloaded quickly but one of his talents is that he can
nut multiple times
.
Julian keeps rocking it out with his cock out as he continues to use our AD couch in more ways than one as he builds up his
final nut
for all to see. He becomes comfortable again on the couch and this time he lays back pulling on that hard dick fast and slow while rubbing his balls until his nut comes shooting up and out all over his sexy hairy happy trail.