War Chest: Justin Grey
Dink Flamingo
2016-08-03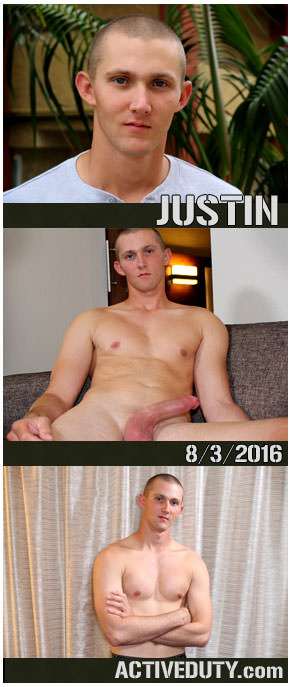 Hey Troops,
You're just in time for Justin Grey! He's the right mix of sweet 'n' sexy, and he's here to show us what he can do. This is Justin's very
first time stroking his cock on camera
, but he does seem eager, although a bit nervous. Justin is cute as a bug and he's stacked with in an incredible physique to go along with that sexy
soldier-next-door
look.
It goes without saying, Justin likes to hit the gym hard. He tells Claude that he's an outdoorsy type of guy, and I was pleased to hear that he surfs! I love the great balance in a soldier who's tough and calculated on the battlefield, but also soulful and creative out there on the waves. Justin is my type of dude...and I'm mean NOT just 'cause of that
luscious dick
.
So once Claude lets him get down to it, Justin pulls off those cumbersome clothes and fattens up that big,
thick Johnson
! And boy, is it a hall-of-famer. Justin has a shapely cock that looks great in his hands. It's the right size for his strong build and sure
gets stiff
quick!
Claude does his usual shifting around to capture Justin's whole essence. I love how Justin is sure to give us lots of engagement. His eye contact really cranks up the heat for this session and kept me transfixed the whole way through. He has a subtle intensity that he uses to express more than words probably could. I think Claude realized the great camera play, because there are a few wonderful tight shots on Justin's
gorgeous face
. That's when I realized Justin's eyes are the deepest blue I've ever seen. There's a raging ocean of a soul in there and when he
strokes his hard meat
, a silent storm surges.
While Justin works on that
thick boner
, Claude gets up high to show us a view of Justin's whole body.
Then we get Justin on his feet so we can see how he looks standing up. Claude gets down underneath the action to give us a look straight upward at this fine new recruit. I enjoy seeing that great,
oily cock
being jacked while Justin peeks his smiling face periodically into view. This is just such a
sexy guy
.
We also get one of my favorite perspectives, the one from Justin's point of view. He has a strong set of hands that know exactly how to please...himself, at least haha! It's this shot that really gives us a sense of how stunningly well-shaped
Justin's boner
is.
Claude moves behind Justin for a while to show us his cute,
flinching ass
. Yum, it's just the kind of rear end that needs a good, hard AD fucking! I'm sure we'll have plenty of volunteers to break him in haha! Let's hope we get to witness THAT initiation soon. Justin seems to have a great time, so I think there's a good chance we'll get to find out how he does in the line of fire. Hold on to your seat Justin, you're headin' into action!