War Chest: Kasey
Dink Flamingo
2015-06-17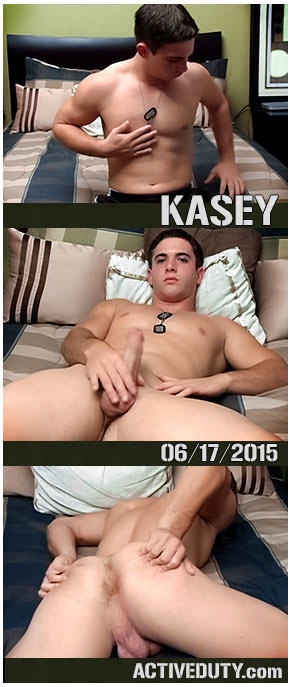 Hey Troops,
Kasey peels off his baggy shirt to show off his smooth chest, dog tags draped around his neck to show his pedigree. Kasey's body has without a doubt only
gotten better with age
, but even though he's not
ripped as fuck
in this video like he
grows up to be
, you can still see the start of a great body from the bulging in his pecs and biceps. And of course once he peels off those track pants and
starts humping the bed vigorously
, we get a look at a fantastic meaty ass, too.
After a couple of minutes of blissful dry humping, Kasey flips over to give us some slow, sensual stroking of his cock.
Slow stroking has a charm all of its own
, because you can get in real close to see every vein and ridge of his cock shaft as he slides the skin up and down -- it's almost breathtaking to see such a beautiful cock so close up!
Kasey tries his best to show off for the camera the way any
inexperienced and shy porn up-and-comer
would, with a nervous smile and a lot of flaunting of his asshole as he stares into the camera like a deer in headlights. Seeing a sweet eager cadet so eager to impress is such a turn-on, and it's no surprise that he was
so willing to take things further
. Hope you enjoyed this edition of "Before They Were Famous" -- Active Duty style!