War Chest: Kevin Daniels
Dink Flamingo
2016-12-21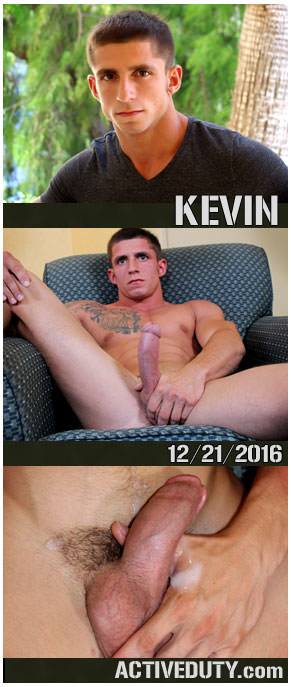 Hey Troops,
We've been luckier than ever lately, seeing these crazy, sexy, cool hunks rolling into our camp on a regular basis. This time, it's
Kevin Daniels
, a hunky, shy rookie with more promise than you can spit at. I knew before Kevin got down to business that we were in for a treat!
Claude chats a bit with Kevin and we indulge in that doe-eyed,
handsome face
. Kevin is cute, with a brooding edge of mystery underneath. Look at those enormous brown eyes! What an adorable stud to add to our squad. I can't wait to see Kevin push his boundaries when he encounters a fellow recruit. But for now...
Of course, Kevin tells Claude that he enjoys spending lots of time in the gym. Once Claude leaves Kevin to get busy
pleasuring himself
, we get our first look at Kevin's smokin' bod. Goodness, from head to toe, Kevin is sculpted as a god. Wide shoulders,
thick arms
, and that sprawling tattoo! Yowza, Kevin is a catch and we ain't tossin' him back!
Now I just loved this: Kevin came in wearing a pair of plain, white briefs--
tighty whities
! It's not too often we see that classic look on a toned, modern soldier like this, but hey, a classic throwback is always in fashion. Take a look at the size of that
growing meat pole
underneath those undies. Kevin doesn't rush, but instead takes some time to tease himself, rubbing on his
fat hard-on
before revealing it.
Claude moves in tight and we watch Kevin's masculine hand, still over the undies, work that
swollen dick
, just beneath his rippling abs. Claude takes the opportunity to get a close shot of
Kevin's handsome face
here, too. From the nuts to the face, YUM!
And then Kevin stands up, pulls down those underwears and we see that thick,
gorgeous cock
. Kevin sits back down and gets to really stroking. You'll be amazed at how large his erection is. He uses two hands for a while to really get this one-man party started. Claude moves to get a shot from the side and Kevin kicks on leg up on the arm of the chair to stretch out a bit.
Then we have Kevin standing up for a while, looking down at us while he continues to
jerk his happy cock
. Boy, that hard thing could sure do a lot of damage, given the right situation. I hope we get to find out just how much!
When Claude gets the shot downward, from Kevin's POV, we see that his dick almost look like it lifts weights itself! Yes, that, my friends, is one
STRONG boner
! And my, my does it look nice getting jerked in his hand.
And then, back to the comfy chair for a strong, warm finish. Kevin is our latest and greatest addition to the roster. We're so happy he's joined us and so horny considering his bright future.