War Chest: Kyler Build
Dink Flamingo
2018-02-07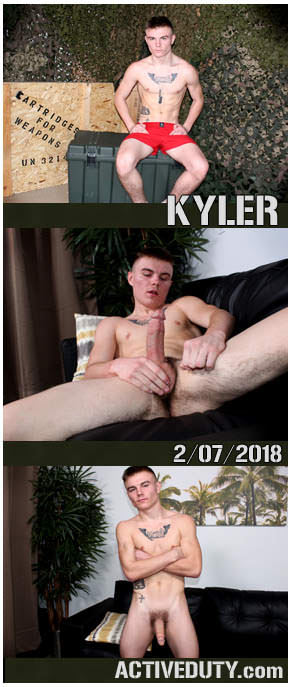 Hey Troops,
Today's new recruit is a fresh young buck by the name of Kyler. He's only 19 years of age standing at 5 feet 10 inches and weighing in at 152lbs. Don't let Kyler's young looks and weight fool you. Kyler is an avid fighter and advancing up the ranks in his own right.
Kyler may have a small frame but his cock is another story. He has a
thick perfect shaped cock
hard and ready to be stroked and he can
cum multiple times
. He has a few tattoos and smooth milky white skin. This young kid might have what it takes to become part of our great AD squad and having a young fresh soldier on the field of battle will excite all.
Kyler pulls out his
fat cock
and begins stroking his thick meat. His
ripped abs
flex with every stroke up and down his hard shaft. His small built frame is sexy and compact especially his
bubble butt
. The only hair on his smooth body is on his legs and just under his furry balls we see a very nice patch of fuzz.
He stands up in the middle of the room showing us all his sexy attributes as Claude pans around him. His hard cock begins to
pulsate
as his first load is getting close to oozing out. He lies back on the couch and shoots a sprinkler style load all over the couch and himself.
You would think that after letting his load out he would be done but nope the fight continues as his cock stays hard and he keeps stroking his meat to build up another sexy load of cum for us all to see. Claude zooms in real close on his throbbing cock and gives us a different angle from his last load. Kyler shoots his second creamy cum all over himself while jerking fast and hard.