War Chest: Laith Inkley
Dink Flamingo
2018-01-17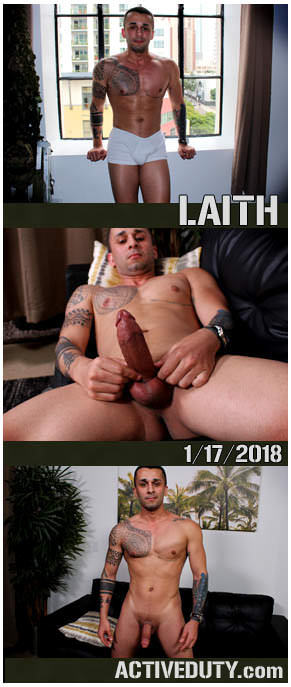 Hey Troops,
Today we welcome our newest recruit, Laith. He just turned 25 and stands 6ft tall weighing in at 180lbs. Laith is an avid gym rat and usually spends 4 possibly 5 days at the gym.
Laith is always up for a
new adventure
and he has come to the right place. He is in great shape with some ink spread across him and a
very thick cock
that I'm sure our vets would love to see.
Laith kicks back on our couch and slowly starts to
touch himself
. As he becomes more comfortable he slips his clothes off to reveal his
fat hard cock
sticking straight up. He grips it tight and strokes it slow showing us every inch he has to offer.
Claude moves in for a great close up shot of Laith's
smooth balls
as he grips them and strokes his dick. Laith is in the zone as he tugs away on that big dick of his. His skin is amazingly smooth and not much hair on his body which means you can almost see his
pink hole
when his legs are spread and he's stroking that fat dick.
You can hear Laith begin to breath deeper and harder which is a sign that he is about to blow his built up load all over. He starts to stroke his dick really fast tugging his balls and
moaning
loud as his hard dick releases all of his cum onto his smooth chest.