War Chest: Leo Balcony
Dink Flamingo
2016-06-01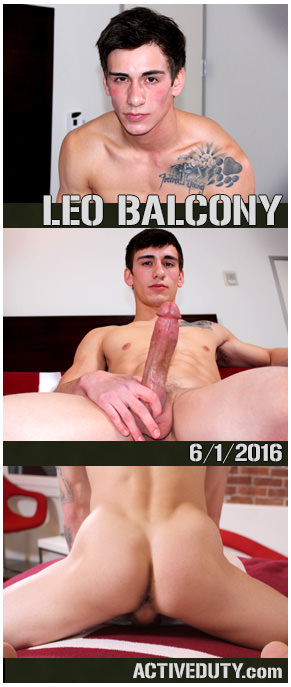 Hey Troops,
Now I want you to remember this young man, because you'll soon be seeing (I hope) plenty more of him. That's how sure I am there'll be a booming demand for this fresh,
hot recruit
, Leo Balcony! What a looker he is! Leo exudes that I-don't-give-a-fuck attitude effortlessly. And coupled with it is Leo's
boyish physique
and irresistible eyes. They're brown and they mean business.
Just as I woulda thunk, Leo is an outdoorsy, guy's guy. He tells Claude that he enjoys hiking and riding motorcycles. I can tell Leo grew up using his hands and getting dirty. It's easy to picture him jamming down a desert highway, wearing black sunglasses while the wind rips through his chestnut hair. Of course, in my fantasy he's completely naked, and completely hard. It's probably dangerous for him to be
jerking his cock
while speeding down the road, but then again...there's that don't-give-a-fuck-attitude!
Leo peels off his shirt and pants and we see that his body is toned to perfection. He has a few nice,
sexy tattoos
on his shoulder and arm. Right from get-go, I can tell he has no reservations about this experience. It's his
first time getting naked on camera
for an audience and he is definitely comfortable. Wow, it's rare a new recruit shows this much confidence. We'll have to only imagine how he'll handle himself with one or two other squad members...but I hope we find out soon!
He takes his sweet time before showing us what's underneath his gray boxer shorts. But it's worth the tease --
Leo's dick
is absolutely magnificent. When it pops out, it's already fully flared, yearning for tender attention. Leo knows exactly how to please himself, reaching right for the lube and greasing up his anaconda. "You like it when I
play with myself
?" he asks us. It seems like Leo is a natural at dirty talk. He jumped into right away and just continued to crank up the heat. What a
naughty soldier
!
Claude gets underneath
Leo's swollen cock
as he strokes the beast from base to tip. Goodness, what a nice view. From here, we get to see
Leo's throbbing dong
along with his gorgeous face. And with the great
dirty talk
, Leo also knows how to give mesmerizing looks. His eyes can shift from expressing his level of pleasure, right to drawing our attention and locking us into tunnel vision. His set presence is commanding and can be, when he chooses to make it, intense.
Claude shows us a few more great views of Leo while he manipulates his
girthy meat
on the edge of the bed, then Leo moves to a standing position. I really like the way we get to have a look at
Leo's dick
from Leo's own perspective. This is where I noticed a couple details: first, I see that Leo values his appearance enough to take meticulous care of himself, as evidenced by his nicely trimmed hair. Second, I love his hands. They're masculine, yet also refined and gentle. They're strong, but sensitive. And I'll bet they feel like heaven!
Then we have Leo reclining on a long, red, velvet-looking chair. Claude shoots him at first from Leo's feet and we see his toes just barely sticking into the frame. We can also see his ass a little more. He has one hand behind his head and the other
jerking that stiff meat
for us. After a little while, he incorporates both hands and really gets the blood flowing, from his balls to the
head of his dick
. He takes some time here to utilize that sweet precum to stimulate the very tip. Claude gets in tighter, just under Leo's cock, and Leo tells us, "Ohhh, I wanna
cum all over you
." ...yes, please!!!
And then we get some wonderful
pillow fucking
. Claude gets close to show us just how exquisite Leo's ass is. Goodness, that soft,
flawless skin
would look good getting pounded! Let's hope we're lucky enough to see that happen very soon.