War Chest: Leo Wyatt
Dink Flamingo
2017-11-29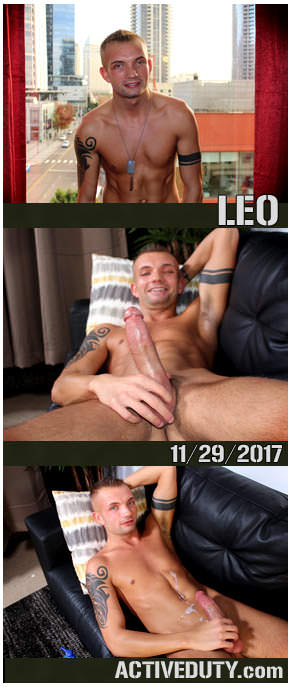 Hey Troops,
Our new recruit today is Leo Wyatt who stands 5'8 weighing in at 140lbs and who is an active runner. Leo is joining us in hopes of being a full time soldier but only the select few ever achieve vet status and that is all up to you, our viewers.
Leo has amazing skin as he slowly reveals his tan smooth body. He only has some peach fuzz on him which looks golden at times when the light hits him just right. Leo doesn't shy away from the camera as he bares all for us to see. He may be skinny but those skinny men are always packing and this time is no different. Leo has a big thick cock for his size and it looks very tempting.
As his cock becomes hard you can see the thickness and length. He has a very sexy dick that I'm sure our vets would love to eat right up. Leo continues to stroke his big dick and as he does he begins to spread his legs showing us his tight little pink hole which I'm sure is a virgin one.
Claude who has never ran from a battle of any kind shows us why he is our camera man as he gives us an amazing close shot of that tight little hole on this sexy big dick man. Leo's pink hole looks even more tantalizing as he starts to rub it with his fingers and at times he pushes them inside. We can only imagine how it would feel to have a thick cock buried in that little ass.
Leo doesn't hold back as he eye fucks the camera and jacks his cock until without any warning he erupts in a nice big creamy load all over his tan smooth chest. Any takers to clean this up for him??