War Chest: Logan James
Dink Flamingo
2016-01-27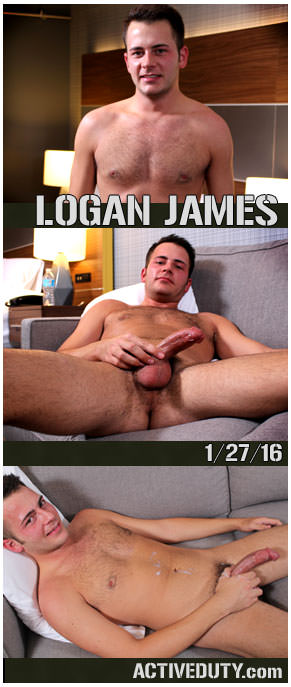 Hey Troops,
When Logan James came in and sat down to chat with Claude for the first time, I'm told he was a tad nervous, but was clearly excited about the prospect of
stripping down and tugging his meat
for a viewing audience. Claude's impression was that Logan would be a perfect addition to our little platoon and our other recruits would be more than happy to welcome him into the fold...Active Duty style!
Well after seeing this
fine, handsome young soldier in solo action
, I can certainly say he knows how to have a good time jerking his cock! It's the kind of sexy, fun energy that boils over, enough for you and me to enjoy ourselves.
Logan tells Claude that he's a bit of an artist: he plays the violin and he's not afraid to own up to being pretty darn good! Logan looks the part of a smooth, stylish musician. I'll bet he wails on the strings, and looks damn good doin' it too!
After the usual chit chat with our boy Claude, Logan pulls off his gray camo underwear and begins
fattening up his meat
. Claude starts out with a nice shot that frames Logan's sophisticatedly handsome-looking face and his swelling cock being jerked. This is a great opener and sure warmed me up. Shortly after, we have a wider shot where we see that Logan is wearing pink socks hahaha! I love this. It's a sure-fire sign that Logan is wild underneath his shy, well-manicured exterior. Oh yes...my suspicion is that we have on our hands a
cock-hungry recruit that loves to be fucked hard
. Well at least that's why MY fingers are crossed!!
Next, Claude shoots over Logan's shoulder for what I like to call a "stroker's-eye view." Boy, what a excellent dick on this recruit. Logan has
oiled up that beautiful erection
just perfectly and is, by this time, losing himself in the moment, enjoying that feeling when the dick grease is starting to warm up!
Claude then comes underneath Logan to show us a nice look at Logans balls. This shot always makes me anxious for that hot load, but I know we're still just getting comfortable with this newbie.
We get some more action from Logan in his socks, while looking down on him on the couch, then we get another great underneath view, this time as Logan is on his feet. Claude takes full advantage of this, and ends up swinging around to Logan's back side to get a nice look at his...well, backside haha! And my goodness, what a strong derriere on this sexy recruit! He has the
type of ass that certainly begging to be pounded
. Hmmmm...I could imagine a few of our veterans who would absolutely have a field day breaking in that fresh AD meat! Let's hope Logan sticks around and comes back to see us. I already have a few ideas for who might get to fuck that sweet rump first!
Before Logan erupts all over himself, Claude catches another great moment that showcases Logan's tasty-looking balls. This is when I noticed how hot Logan's hands are! They're masculine, but with a refined elegance...qualities I might guess of the hands belonging to a well-trained musician. I guess his story checks out!
Enjoy watching this handsome new troop addition and keep YOUR fingers crossed (along with me, of course) that we seem him back soon!