War Chest: Logan
Dink Flamingo
2015-08-26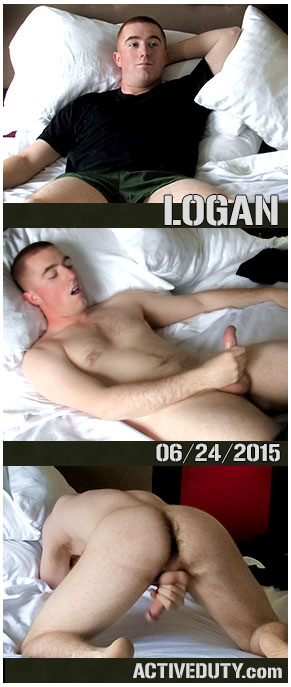 Hey Troops,
For today's War Chest Wednesday we're giving our new guest director Claude some time to catch his breath after the positively incredible
barrage of content
he's made for us in
such a short time
. Jeez Louise, what a machine that guy is! Fresh to our ranks and already securing his spot among the greats. But everybody needs a day off so today, guest director Mike brings us a hot young punk loaded with spunk and ready to fire with newcomer
Logan
.
Logan's a 20-year old looker from Mansfield, Ohio who sports a winning combination of
a humble boy-next-door face and a lean, boot-camp body
. At 5'8" and 150 lbs., and rocking the typical military man's crew cut, Logan's really got quite the Average (G.I.) Joe look about him, and that's one of the things that is so hot about him is he really looks the part of the
earnest, all-American soldier
. It's so easy to picture him pallin' around with his buddies in the barracks, maybe recording one of those goofy lip-synching songs with his platoon or something.
But today Logan's recording a different kind of video, the kind I like soooo much better, the smutty kind! Logan says he's a bit nervous but he doesn't show it, lifting up his shirt and getting to stroking the second Mike leaves the room. You can see a bit of a treasure trail as Logan tugs up the bottom of his shirt, but you'll have
to imagine what that trail leads to
for at least a little while longer as Logan fondles his shaft in one hand and his balls in the other all behind the privacy of his trunks.
Once Logan finally whips it out for you to see, he doesn't waste much time letting the rest of him get exposed to the camera. Boy's got a light bit of fur to his chest, especially around his nipples and his belly button. Logan applies a healthy dollop of lube to his dick and gets to stroking. He's not as much of a showboat as
some
of our
other models
, and you won't see much of him making googly eyes to the camera. Instead you get to see a guy fully wrapped up in the enjoyment of playing with his cock, to the point where more than once his eyes shut tight and he gasps as a wave of pleasure gets his whole body tingling.
Of course, just because he ain't showboating doesn't mean you folks won't get a show, and if watching Logan's sensual stroking isn't enough you'll also get a delicious peek at his
fit and furry buns
when he rolls over and sticks his ass out for his fans to see. When Logan gets set to cum his pace quickens and he practically jackhammers his fist up and down his cock until he busts a thick load all over that hairy chest of his. He's going so fast he has to gasp for air before he can even answer Mike's debriefing!