War Chest: Logan
Dink Flamingo
2018-03-21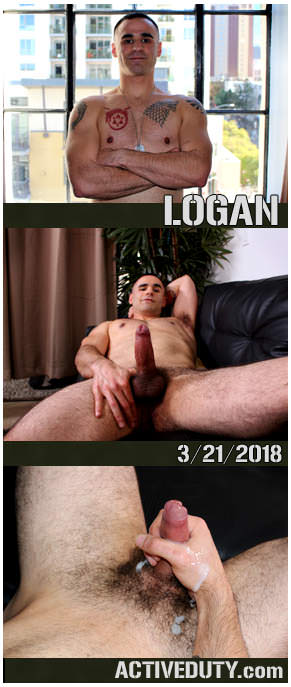 Hey Troops,
Let's give a warm welcome to our newest recruit Logan. He's a perfect age of 25 standing 5 feet 6 inches tall and weighing in at 160lbs. When Logan isn't on our couch stroking his cock you can find him at your local gym putting in work on his sexy body.
Logan has a very nice
hairy body
that covers his chest perfectly and his legs are nice and bushy. He has some ink on his chest and the smile he gives the camera will bring a smile to your face as well. Logan has a
great uncut cock
that he pulls out nice and slow for us all to see.
The sultry hair doesn't stop as his balls are covered in his dark fur also. Claude gives us a great view showing off those
furry balls
as he strokes his uncut cock fast with a firm grip. Logan caresses his chest and plays with his nipples as he stands up flexing his manly thighs and
stroking his hard cock
.
Logan has tons of precum that builds up and as he strokes it almost looks like he has nutted but it's just all of his precum built up at the tip of his
uncut dick
. He plays with the precum as he continues to show off his sexy cock.
Those balls are looking heavy as ever as Logan sprawls out on our couch. He kicks his head back and eventually
lets his cum loose
all over himself soaking his cock and chest with his man juice.