War Chest: Luke Johnson
Dink Flamingo
2018-09-12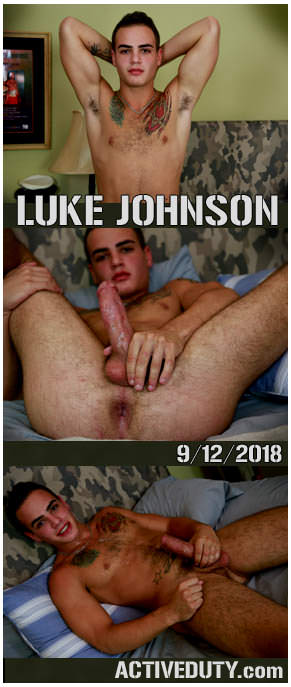 Hey Troops,
Today our fresh new recruit is Luke Johnson who is from Philadelphia and was an avid wrestler in HS. He's now in the Coast Guard and his main priority is stopping the drug smugglers. Luke has many stories from his adventures and we are glad he has come to us for his first time in front of the camera.
Dirk talks with Luke making him comfortable before his clothes come off. When the time is right Dirk tells him to get naked and tosses the lube at him. Luke has been waiting for this moment and gladly sits down in the chair and begins to get his
cock hard
. He lubes up and within seconds his dick is rock hard and
he's stroking every inch
of us all to see.
He has a modest hairy body with some tattoos and his accent is extremely sexy. You can see the lube shine off his
throbbing cock
as he masturbates. As Luke becomes lost in the moment he begins to talk dirty while moaning and groaning.
Dirk has him get on the bed and he continues to stroke his big hard dick until we tell him to bend over and show off his ass. Luke listens to every command and uses both hands to spread his virgin hole wide open and he even winks at us.
His tight pink hole
is ready for the taking and hopefully we see one of our vets take that ass to town.
Luke lies back down and spreads his legs so we can see his furry balls while
strokes that hard dick
. You can tell he is getting closer to nutting as his breath picks up and his moans become louder. Dirk tells him to let the nut out when he is ready and soon after Luke is
beating his cock fast and hard
until he shoots streams of cum all over himself which even sprays his own face. Luke is amazed that he got his face and his chest is full of his sticky warm cum.