War Chest: Mack
Dink Flamingo
2018-01-10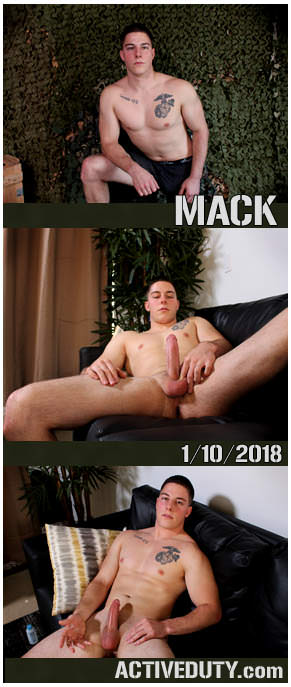 Hey Troops,
We have a fresh new recruit today who looks very promising for future scenes with some vets. Let's give Mack the attention he deserves. He's only 21 standing 5 feet 9 inches and weighing in at 175lbs of pure thick muscle. Mack loves to hit the gym if you couldn't tell by the amazing shape his young fit body is in.
Mack starts out slow as he takes his shirt off and moving slowly down to
unbutton his pants
. Once he unzips his pants
his sexy hard cock
flops right out and he grabs it with both hands and immediately starts
masturbating
. He has a great looking dick and his thick firm thighs are to die for.
Mack becomes more and more comfortable as he plays with his balls and stroking his
long thick shaft
for our viewing pleasure. Claude pays close attention to his
sexy feet
while slowly panning up towards his legs and thighs showing us every sexy detail and up to his young masculine face.
He
eye fucks the camera
as it moves around his fit body and face. Mack's legs are spread nice and wide so we can see his
balls hanging
and touching the couch. He has the perfect amount of hair and I know our vets would love to spread his
sweet ass open
and rim him deep and hard.
We can only hope Mack enjoyed himself enough to come back and explore some more of his sexuality with his. We'll take very good care of him since he showed us an amazing show stroking that hard cock of his and busting a very
thick creamy load
all over himself.