War Chest: Marc Montana
Dink Flamingo
2018-10-10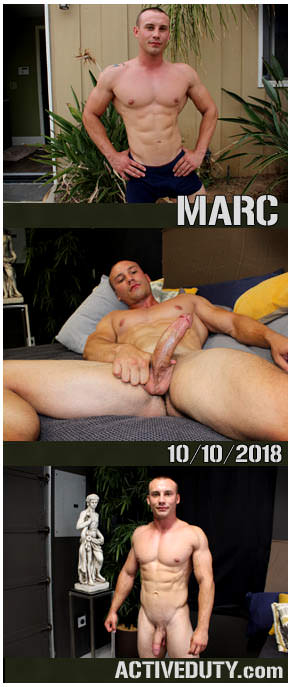 Hey Troops,
This week's fresh rookie is 27 years old standing at 5 feet 11 inches and weighing in at 195lbs of pure lean muscle. Marc if you couldn't tell is a gym rat and spends just about every waking moment in the gym. He has an amazing diet and his will to maintain that physique goes beyond the gym.
Marc doesn't waste any time ripping his clothes off and jumping onto the bed. Once he is comfortable he begins playing with his
big dick
and soon enough it's rock hard standing straight up. He grips it tightly showing off his
throbbing veins as he strokes every inch
of his beautiful cock.
His smooth skin and huge chest
are definitely eye candy as he pleases himself. The intent on his face as he masturbates is extremely sexy. Once we get underneath him for one great shot we see how hard his shaft is and his
impeccable veiny thighs
. He looks down at us stroking his cock tightly and moaning just slightly.
Marc is one beautiful soldier built for any battle that comes his way. His strong legs and arms show us just that plus the way he keeps pulling on his long hard dick. He is a man of dedication and he won't stop until he gets what he wants.
Finally we get between his legs revealing his tight shaved hole as he continues to stroke that throbbing cock of his. His legs are mesmerizing but his dick is the attraction.
Marc pulls on his dick
a few more times and he gives us the warning shot and he lets loose his cum that's been building up in his firm balls. His warm juices end up all over his smooth ripped abs as he smiles once more for us and fades off into the ranks.