War Chest: Marco
Dink Flamingo
2018-05-16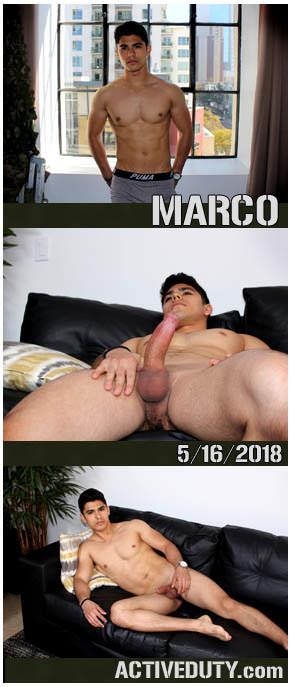 Hey Troops,
The recruits keep falling in waiting for their chance to be a part of this great squadron. For today's test run to see if he has the guts to become a soldier is
Marco
, he weighs 156lbs of lean sexy and is only 21 years of age and stands at a height of 5 feet 8 inches tall. Marco loves to hang out with his friends and go to parties and when he's chilling he loves to hit the waves on his surfboard.
This
sexy Hispanic man
has skin to die for as he gazes into the camera. He's a
beautiful young man
that is exploring all that life has to offer and we are glad he is on our couch
stroking that fat dick
of his. Marco didn't waste any time taking his clothes off to reveal his
uncut cock
. He started stroking that fat dick of his and all of a sudden he busted a
huge nut right off the bat
. We were surprised to say the least since we just started filming but this guy is soldier and he had more nut building up for another blow later on in the scene.
Claude gives us some amazing looks at Marco's soft tan skin and his hairy firm ass. His balls are cupped and building up some more sweet cum for another hot cum shot but not so soon this time.
All that surfing has made
Marco's thighs thick and strong
as you can see when he stands tall stroking that
thick hard cock
. He's a man of few words but he is almost picture perfect and by that I mean you have to check out his photos. The camera loves this sexy man and we think he just might move up some ranks if we can get him back.
He blew his load super quick in the start of the video but he soldiered through and got his
big balls full
and ready to show us that he can cum multiple times with ease. He strokes that throbbing cock fast and firm until his second load comes blasting out like a cannon leaving a sticky sweet mess all over his tan smooth chest.