War Chest: Marco
Dink Flamingo
2019-01-09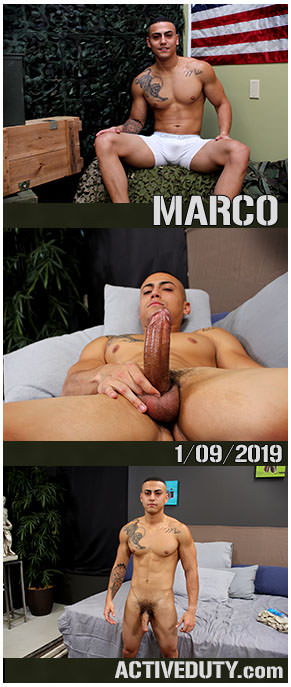 Hey Troops,

This weeks fresh new recruit is Marco and while he's on leave he wanted to see what the adult industry was all about so we made him comfortable and at 23 years of age Marco has the world waiting for him. Hopefully we'll see him again in the near future.
Marco doesn't waste any time and he begins to take all his clothes off. He grabs some lube and starts
rubbing it all over his cock
and soon enough his dick is hard thick and big. He slowly strokes his shaft all the way up and back down to
his full balls
.
Marco is ripped and fit like none other and he has a
big bubble ass
that just sticks right out. Claude gives us a great view of Marco as he slowly pans around him showcasing all the sexy goods on this man.
He likes to lay down on the bed so once he was done stroking his dick standing up he jumps back on the bed legs spread out and continues to
build up his balls as he strokes his big thick cock
faster and faster. The veins in his hands are popping out as he grips his
sexy throbbing cock
. Marco strokes his dick a few more times and he gives us the heads up that he's about to pop so Claude moves in for the shot and than Marco shoots his thick creamy load all up and down his chest.