War Chest: Mathias
Dink Flamingo
2017-03-22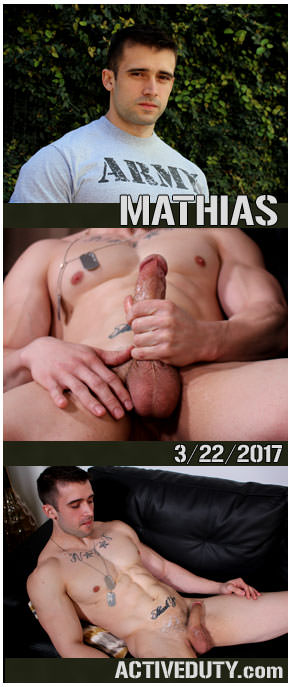 Hey Troops,
Mathias is our newest recruit and he's one hunk of a cutie! He a bit of a shy guy, but we know some of our most reticent rookies have become powerhouse veterans. Mathias has a cool, mysterious vibe that's gonna break a lot of hearts around here.
If you think he looks like he has a great body with his shirt ON, you just ain't gonna believe what he looks like when he peels it OFF! My goodness, Mathias has one of the most amazing physiques we had come through in a long time. It's easy to see he certainly takes his time in the gym seriously.
And once he loosens up enough, Mathias pulls that cock out and takes off his blue jeans. Claude gets low and tight to show us those
gorgeous balls
and that
hard shaft
. Here we learn that Mathias likes to play right to the camera. We get lots of
sexy, deep looks
from this
handsome dude
.
Then it's back to the couch where Mathias kicks up a leg and gets even more comfy. Claude moves all around this fine specimen, at one point getting a shot from Mathias's point of view.
Mathias stands up again from there, and Claude captures another view from over Mathias's shoulder. This is a great chance to check out
Mathias's abs
. His dog tags bounce off his chest and stomach as his masculine hands work that
fat, erect dick
.
Back on the couch, Mathias really explores himself, letting his free hand wander all over his
toned bod
. With his legs spread far apart, Mathias lets his inhibitions slip a little further away. I can tell here he's getting just a tad more used to the idea of
jacking off
on camera. Oh yes, this boy has potential!
Finally, Mathias leans back again, fully reclining on the couch. Claude gets some nice close-ups of his face before Mathias erupts a
big, sticky load
, all over himself. Based on the little post-climax interview Claude conducts, Mathias found the experience "exhilarating." That's a good sign for us! Let's keep our eyes out for this
sexy recruit
to be mixing things up with fellow squad members real soon.