War Chest: Mathias
Dink Flamingo
2017-12-27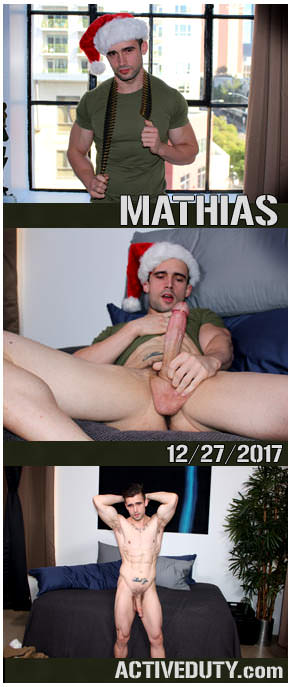 Hey Troops,
Mathias is back for a very special
X-Mas solo
that he has been dying to do for all our members. He has been so excited to do this and show off for you guys. Mathias has come a long way since his early beginnings here at AD. He has become very comfortable and it shows in this amazing solo.
He uses the Santa hat in ways we've never seen before here at AD and he continues to
tease the camera
for all of our viewers. His body is in peak physical condition as he uses his fingers to play with his eager
tight hole
. He grips his cock with the strength of a bear making it
pulsate
for the camera and he tugs on his balls making them jingle all the way.
Mathias didn't just want this to be a stroke session so he incorporated some amazing show and tell and by that I mean he begins to slowly move his hips back and forth while
showing off every muscle
on his amazing fit body. He turns around slowly revealing his
tight bubble butt
and he flexes his built thighs showing just how strong he is.
A long stroking
and showing off session can make you thirsty as he takes a quick break to tell our viewers that it's time now for the cum shot. He lies back on the couch and starts to beat his cock fast until his balls can't hold his nut in no longer and he shoots his thick creamy load all over his ripped abs. We hope you enjoyed Mathias's X-Mas special and from everyone here at AD we wish you safe Holidays and a Happy New Year.