War Chest: Matthew Reeves
Dink Flamingo
2016-04-27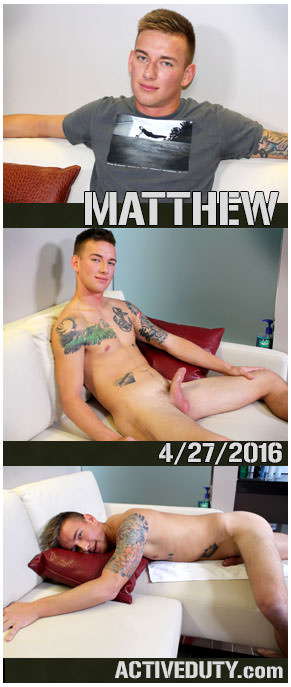 Hey Troops,
I just don't know how we keep getting so darn lucky, but I ain't complaining! This time we're welcoming yet another gorgeous new recruit to the squad and you'll agree that he's just the right mix of
cute and handsome
!
His name is
Matthew Reeves
and Claude chats him up just a bit before Matthew gets down to pleasuring himself. We learn that, of course, Matthew loves spending time in the gym, as well as hanging out around car shows. I believe this is the third or fourth time we've heard about car shows...maybe I'm hanging out at all the wrong places hahaha!!
Once Matthew strips off his shirt and shorts, we see he's wearing a pair of gray briefs and there's something getting seriously fat in them. By the time Matthew pulls 'em off, his cock is
fully erect
and ready for attention. Matthew's body is wonderful: patches of sexy ink and nice muscle tone. I think the highlight for me during this introduction was Matthew's irresistible facial expressions. He really wears his sensuality well and I can tell he's not afraid to show how good it feels to tug his
gorgeous meat
.
After some nice
jerking on the couch
, Matthew flips onto his stomach and grinds his boner into the couch. Claude gets in nice and tight, showing us Matthew's luscious ass in action. It's bubbly with a medium amount of hair. Matthew has so many qualities in a recruit that I think are important when considering how good he'll look
getting fucked hard
by one of our fine veterans. I'm VERY hopeful that Matthew will come back to
take a big, stiff cock
in his tight hole.
We get to see Matthew stand up for a bit, and Claude goes underneath for his signature "upwards" shot. This was really nice. I enjoy this angle, imagining Matthew could
spray a load
on me at any second. It's an excellent chance to see his balls and ass at the same time. And then Claude swoops around to the downward view, showing us that
hard dick
from Matthew's own perspective.
Finally, Matthew is back on the couch, a bit more sprawled out this time,
jacking his erection
until it magnificently erupts. This is definitely a soldier that I know will fit right in. He's friendly, easy-going, and
incredibly hot
. I think we'll find out very soon just how
willing and wild
this fresh face will turn out!