War Chest: Max J
Dink Flamingo
2017-05-03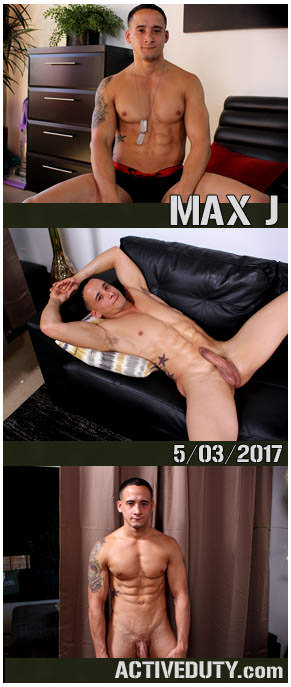 Hey Troops,
The recruits keep falling in waiting for their chance to be a part of this great squadron. For today's test run to see if he has the guts to become a soldier is
Max J
, he weighs 160lbs 25 years of age and stands 5 feet 9 inches tall. Max is loves the outdoors so when he's not stroking
his big dick
you can find him surfing, fishing or possibly camping.
Max has a quiet demeanor but once he warms up to the camera he begins to get a little vocal. We get to see his cock grow and it's a
sexy smooth dick
that's for sure. His tan smooth skin looks so tasty especially when he's gripping that dick and stroking it up and down.
Claude gets some amazing views of Max's
strong physique
. His legs are firm and his
balls are smooth
. You can see the sexy definition of his body starting from his thick thighs all the way up to his chiseled chest. He stands tall stroking his
unbelievable hard cock
. Each stroke shows off his muscles.
Max loses himself in the moment as he relaxes on the couch to spread his legs wide and far to reveal his
sexy ass and very low hanging balls
. With each tug on his dick his balls bounce up and down.
I just know Max will be a hit with the veterans and I'm sure we will see him back here again real soon. Whether it's him pounding some ass or being bent over so we can see him take a dick I'm sure we will get to see those balls empty out on one of our long time soldiers.
Finally Max's balls are ready to give us all what we have been waiting to see. He gets down on his knees like a good new recruit and blows his load all over the floor. His loud moans of pleasure with his release are the biggest turn on of them all.