War Chest: Max
Dink Flamingo
2014-12-17
0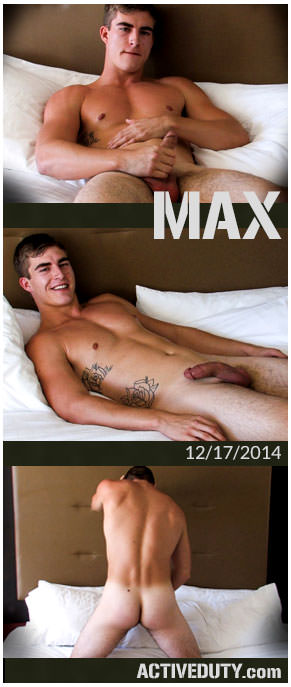 Hey Troops,
We're back for another War Chest Wednesday with something to cool you off while still keeping you heated after
Sunday's scorching three way with Cruz, Jaxon and Niko
. After getting all hot and bothered to that degree, some of you may welcome something just a tad less intense. I'm sure you're gonna enjoy Mike's new find as well so let's not waste any time getting you introduced to
Max
where we get up close and personal with this total hottie.
Thinks kick off as usual with Mike chatting up the new recruit who already has his belt undone and his zipper half unzipped. That's always a good sign of a willing rookie ready to jump right in and get things up and running. Mike starts out by getting the goods on Max as we learn that he is from Sacramento, stands 6 foot, one inches tall and weighs in at 185.
Max's hobbies include riding dirt bikes, working out and playing football. Mike tells Max that he's here to rub one out and wants to know if Max has any questions before he leaves him alone for a few minutes to get started. "No sir" comes the respectful reply from this tall lanky soldier who has yet to look at the camera. Kinda makes you wonder if he knows what he's gotten himself into here. LOL.
Some of my personal observations about Max so far are his thick, beautiful eyebrows which in todays age of "pluck and trim" I happen to find attractive on a guy. He has pretty eyes and while his face is strong and structured, it's still a baby face. His long torso, narrow waist and wide chest make me anxious to see his beautiful chest which I'm betting is as smooth as a baby's ass with a couple of freckles scattered about.
As soon as Mike leaves the room, Max doesn't waste thirty seconds pulling his dick out of his jeans and begins bringing that baby to life. His skin tone is beautiful and as he peels off his pants we are introduced to beautiful hairy thighs that you can tell are soft and downy. Max has a few tattoos--which surprised me just a little. Even though he's a military guy, he has the look of innocence that hasn't quite found his way into a tattoo parlor on a late drunken night. This leads me to wonder what other kind of secrets Max has that you wouldn't guess about him based on his looks alone.