War Chest: Max
Dink Flamingo
2015-10-21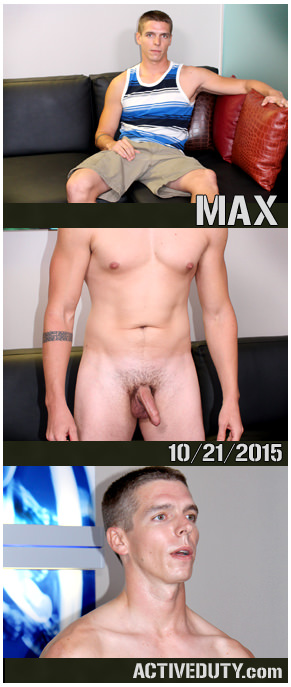 Hey Troops,
We've been having such great luck with the fresh recruits Claude's brought in lately, and today the streak continues! This is
Max
, and I have to admit I'm extra excited about this fine young soldier.
Max came in for his very first time, and seemed surprisingly comfortable. He and Claude chat for minute about Max's interests and what he likes to do when on leave. It's no surprise Max is an avid runner. He tells Claude that he's also involved in Mixed Martial Arts...I think a good handful of us wouldn't mind doing some naked grappling with THIS fighter!
Max
really seems like such a down-to-earth, friendly dude. Mark my words, if we can coax Max into coming back to us and mixing things up with a fellow recruit (of a few), we'll have some awesome results. He's so likable and mellow, the sort of guy that doesn't take himself too seriously. Just what we like to see here!
Once Claude fires up a dirty movie and gives max the green light, we do see a little reticence. This is healthy, I think, and we'll be privileged ( I hope!) to see a promising new recruit blossom from optimistic caterpillar to fluttering butterfly very soon.
When
that dick comes out
, Max gets to cranking. It's his first time, like I said, and we see him a little stiff here. I think one day in the near future, we'll look back at this solo session and see wonderful improvement. But this, still, is very hot! I enjoyed seeing his
feet
while on the couch. He has nice, long feet that I'm sure are big helpers when he's wrestling with competitors in the ring.
Max stands up after this and tugs his way to an excellent
eruption of warm goodness
, all over a set of leather pillows. Until next time we see this stud, I'll be eagerly looking forward to experiencing more of his warmth and
good ol' fashioned charm
.