War Chest: Max
Dink Flamingo
2017-03-01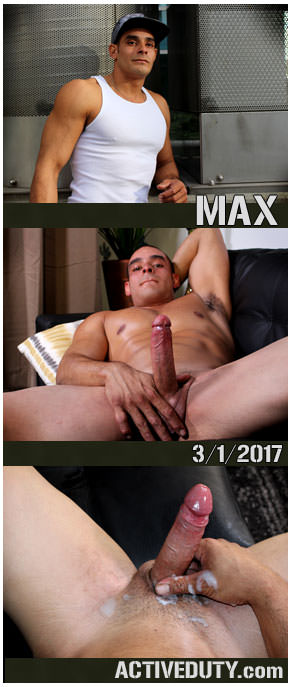 Hey Troops,
This is our newest boy,
Max
! I like Max right off the jump and I think y'all will too. Chatting with Claude, I can tell he's an adventurous guy who'll be willing to test his limits. Isn't that exactly what we look for around here?
Max wore a tight wife beater and a pair of blue jeans. I certainly like his style and he knows how to accentuate his assets. Max has nice,
thick arms
and a muscular,
well-built chest
. When he pulls off that top, we get a look at his yummy pecs. He has sumptuous dark skin and
irresistible nipples
! You'll be salivating.
Once Max gets his dick nice and hard, he stands up and uses some lube to really get cranking. He's not afraid to really let his hands wander all over his body. After a little while, Max's whole chest and stomach are covered in warm oil.
Claude takes this opportunity to get low and tight. Max looks down at us and displays his
sexy balls
. It's easy to see that Max knows how to use his
sex appeal
to put on a good show. I can't wait to see him in action with a few other good men.
We get a nice view of
Max's hard cock
from Max's perspective. Max's skin tone is such a major turn on here! Seeing those hands work on that
stiff erection
is such a treat.
Then Max goes back to the couch and reclines back, kicking his legs up to really focus on
jerking his meat
. Claude gets a close-up that displays for us
Max's ass
. Max lifts his balls, telling us he's ready for whatever adventures might soon cum his way. We're ready too, Max!
Some nice,
strong-handed tugging
leads Max to go back to his feet. He takes advantage of a mirror, admiring himself as he
strokes his hard dick
, watching his powerful body move with a sensuous rhythm. I can't blame him; I'd be turned on watching myself too!
Eventually, Max heads back to the couch to lay back and pop off a nice,
big load
. I'm very excited to see more from this fresh soldier. I think his attitude and amazing body will be huge factors in pushing him into an important role on the squad.