War Chest: Mikey
Dink Flamingo
2016-09-21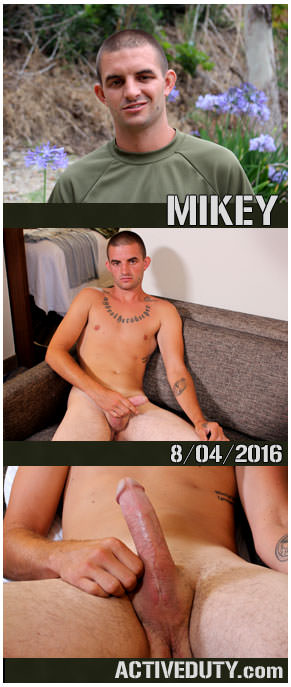 Hey Troops,
This here is
Mikey
and I really think he has LOTS of potential! Mikey comes to us as a
brand new recruit
who's never been naked on camera, which explains the little bit of nerves we see off the jump. Claude chats with this fresh newbie and we find out that Mikey is a
surfer dude
who enjoys a good California chill session during his free time. It seems he also loves a good stroke session, which is lucky for us!
Once Claude gives Mikey the go ahead, he takes his time
fattening up his cock
before any clothes come off. He finally does peel off his shirt and his dog tags dangle as we check out his lean, strong chest. Mikey has a few tough-guy
tattoos
that really add a nice edge to his persona. He seems, at least this time, pretty shy. I think he does need a little time in front of the camera to loosen up. That's certainly not a problem here at AD.
Mikey starts to work up a good rhythm on his cock. As he
strokes on the couch
, Claude gets in low and tight to give us a nice looks at his fat stiffy. Mikey has a very
nice dick
, with a sweet lookin' set of balls that bunch up tight as he
jerks his meat
.
He goes to his feet for a while and Claude comes over the top to show us what things like from Mikey's own perspective. Goodness, that cock looks excellent in
Mikey's hand
. He tugs at a
fevered pace
as he really starts to get more comfortable and enjoy the moment.
Claude gets behind Mikey for a while and we see
Mikey's sweet bottom
. His skin tone is just perfect and I couldn't help but imagine that ass getting fucked nice and hard by one of our go-to cadets. Oh yes, I think
Quentin Gainz
or
Chase
would know exactly what to do to that
tight hole
!
Mikey ends up back on the couch sprawls a leg out for the final stretch. I like the way Claude captures a nice shot here of
Mikey's stroking action
, along with his tender cheeks just underneath those
tasty-looking balls
. It's safe to say we have another talented young prospect for the squad. I'd certainly like to see more from Mikey and I think we'll get to see more of his personality once we can convince him to experiment with a fellow recruit. This time, he did a great job fighting through the nerves and
busting a sweet nut
for us.