War Chest: Monte Marcello
Dink Flamingo
2019-01-02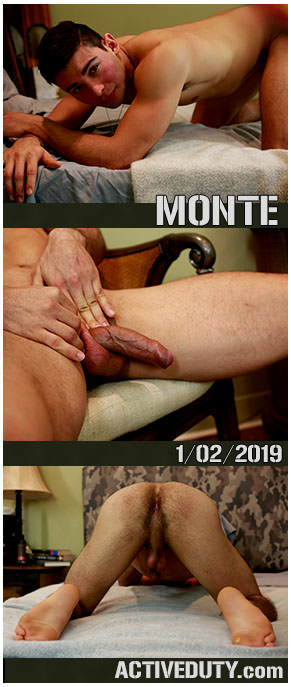 Hey Troops,
Dirk has a very fresh new recruit and he's living in sunny San Diego. Monte is shy but committed to becoming the best soldier there is.
Once Dirk lets him loose he starts jacking his
uncut cock like crazy
and I mean I've never seen anyone yank on their cock like that before. Dirk had to tell him to calm down and relax so he wouldn't bust his nut in five minutes. Dirk calmed him down which you will see how real we treat our soldiers in the field of battle. We want all new recruits to feel welcome and comfortable as they express themselves.
Monte slowed it up and he revealed his
uncut throbbing cock
to us showing us his foreskin as he peels it back and
strokes his dick slowly
. He loved showing it off like that and he's never had the chance to show off his uncut cock in this kind of environment.
Monte got comfortable once again after showing us his ass and he laid out on his back legs spread and
started to jack his hard throbbing uncut cock
once again. His dick is ready to explode as he has built up one big load with all the quick stroking.
Dirk tells him he's ready for his glory shot and Monte doesn't hold back and finally releases his built up load all over himself.