War Chest: Myles Long
Dink Flamingo
2018-01-03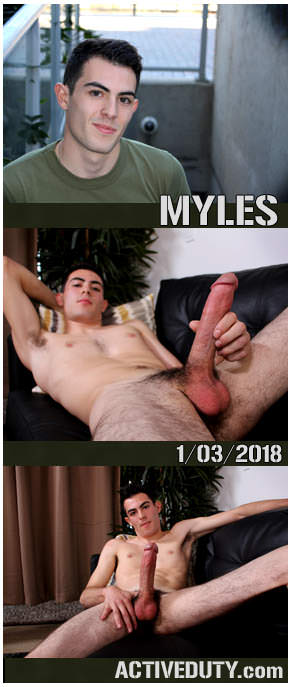 Hey Troops,
We would like to introduce Myles Long and they don't call him Long for no reason if you know what I mean? Myles is only 21 standing at a very tall height of 5 foot 11 inches and weighing in at a light 140lbs. Myles is a movie buff and hopes to one day star in some of his own movies. Well we know this is his first movie and it will be up to our viewers if he becomes a star.
Myles has a
sexy nerdy look
to him as one of our newest recruits. Once he drops his pants we find out real quick why they call him Myles Long. The
skinny soldiers always have really long cocks
. Myles can barely hold onto his own
big dick
as he needs two hands to keep it under control. He's a lanky fellow with modest body hair and eager to show off his amazing dick.
Myles gets in the groove real quick as he grabs that long hard cock with both hands and squeezes it tight as he strokes his
sexy shaft
up and down. He loves to
squeeze his throbbing cock
as hard as he can as he masturbates for us all. His balls bounce up and down as he beats that succulent cock. You can see the precum ooze off the tip of his big dick.
He kicks back with his long legs spread
jerking his veiny cock
up and down from fast to slow as he builds his balls up for an amazing release. I sure hope Myles comes back and buries that cock in one of our top vets, which would be unbelievable to see.
You can only stroke a big ass dick like that for so long until your hands become tired of tugging on such thick and long meat. Myles lies back down on the couch and his cock begins to erupt like a volcano
shooting loads of cum up and out
into his armpit and almost hitting his face. He continues to unload his balls as he eventually has cum all over his chest. Myles has the load others wish they could only shoot and we here at AD hope to see him come back for another great adventure.