War Chest: Nate
Dink Flamingo
2015-04-01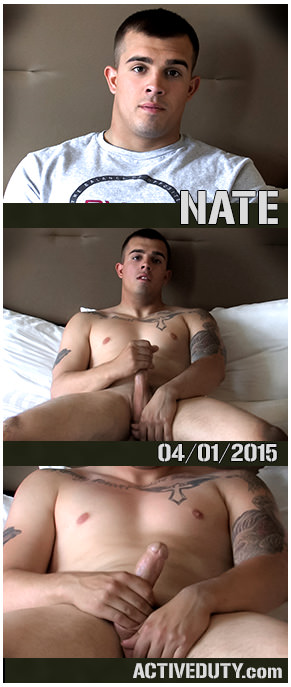 Hey Troops,
Mike's contributions to our War Chest Wednesdays are always a treat for me because they usually feature a newly discovered soldier in his first scene on camera. It's always a bit of a thrill for me to be able to explore a new body for the first time along with all of you, not knowing what's gonna be under that tight tee and baggy shorts of his... does he have any
tattoos
? Is he
smooth-chested
or does he have
a bit of a treasure trail
? And of course the million dollar question, how big is he packing? It's all a big mystery until he starts to take off his clothes for the camera, and I'm a sucker for the anticipation.
Well, today we've got
a strapping young recruit by the name of Nate
. He's got a great college jock aura to him, and I can just picture him and the rest of his platoon buddies getting up to all kinds of roughhousing during their hours off. With
that classic jock look
it doesn't surprise me in the slightest when he says he also plays a lot of football, but I guess the real question is if he plays shirts or skins... well, he's playing skins by the end of this video, that's for sure!
Nate's 22, a California boy born and raised, and he's 5'7" tall and weighs 180 pounds.
He's got a bit of a deer-in-the-headlights look
as he introduces himself to the camera, but Mike does his best to make him feel comfortable, and gives Nate some alone time to get himself started. Nate ditches the shirt and lo and behold, the guy's got tats to spare, like many of our other brothers in arms. His hand runs along his smooth, bare chest and finds its way down to his boxers, where he
gives himself some playful tugs
before getting more serious with the bottle of lube on the nightstand.
Nate's got a pretty steady jack-off routine
, with his right hand doing most of the stroking and his left hand cupping at his balls to apply some extra pressure. I kept hoping he was gonna sneak one of his fingers down a little to play with his hole, but I guess we're gonna have to train him a bit on the ways of anal penetration. That's ok, if there's one thing a soldier's used to, it's a rigorous training regimen!