War Chest: Nathan Vine
Dink Flamingo
2016-11-02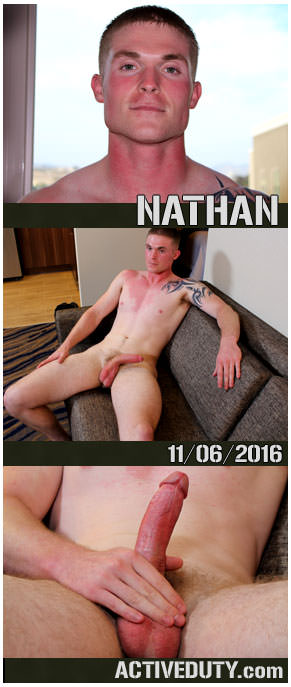 Hey Troops,
This is
Nathan Vine
and I know right from the jump he's gonna be a big star here at AD! Nathan just has that irresistible quality that makes you wanna see him in action. That
fair complexion
, those honest eyes, and that friendly smile sucked me right in. And once he took his clothes off, there were plenty more incredible attributes to drool over!
Claude chats with Nathan in a very relaxed, laid back way, it's easy to see that Nathan fits right in wherever he goes. Right after Claude gives him the go ahead, Nathan pulls of his shirt and pants for us. He has pretty much zero hesitation here and I know that's a great sign, especially in the very first moments of his
first time on camera
.
Nathan gets nice and comfy on the couch, rocking a
strong erection
right off the bat. Check out his
beautiful balls
! Nathan gets his stroke on right away and shows us his sensual method for tugging his boner. He tends to give his boys a little love with every motion. Claude gives us a nice wider shot to start out, then goes in nice and tight while Nathan works into a nice rhythm on the couch. When we get this closer look at Nathan, I realize just how truly classically handsome this boy is!
Then Nathan goes to his feet to continue pleasuring himself for us. Goodness, he's a quite a beautiful guy. He has such nice, broad shoulders and an excellent, muscular physique. I certainly enjoy watching him jerk that nice, thick cock. Claude gets right underneath Nathan's dick while he strokes. Here we get another, even better look at those great balls. Nathan gives us some love, glancing down at us as we look up at him.
Claude gets some wonderful action from Nathan's point of view. Wow, this is really where I notice just how exquisite that big, hard dick is. Nathan is blessed with a very nicely shaped cock, that looks just delicious in his strong, masculine hand.
Nathan goes back to the couch to finish up, this time though, he spreads out a little more, opening up as he becomes more comfortable in this space, now showing off a little bit for us. With one leg stretched out on the couch, Nathan teases us with a little exposure of his ass! It's just the thing that gets me all hot and bothered! And now I'm hanging in anticipation until we get to see more from this stud.
But before he's through, Nathan takes a rest for a minutes. Claude was good enough to capture the "tail end" of Nathan's nap, giving us a great look at his plump ass. Oh boy, would I love to see those cheeks get pounded! Hang out and join Nathan for this hot stroke session. I know you'll end up just like me...clamoring for MORE!