War Chest: Nicholas Sykes
Dink Flamingo
2019-01-30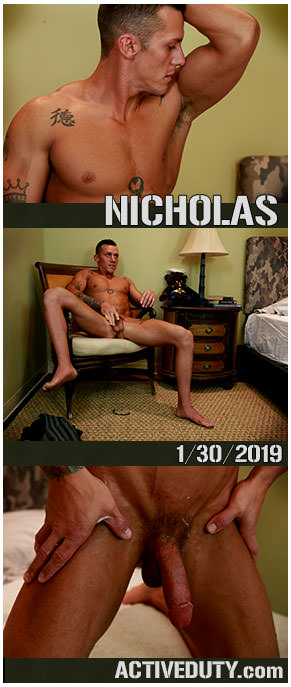 Hey Troops,
Dirk has found one sexy new recruit who doesn't look 28 years of age one bit. He's been in the armed forces for 8 years and he loves Baseball the most of all sports. Dirk loves to make the rookies comfortable and Nicholas tells Dirk why he wanted to try out the industry. Nicholas has great amazing skin. You would think he hangs out at the tanning booth all day but nope. Dirk found out that Nicholas loves to visit the nude beach.
He moves to the bed where he continues to stroke and play with his big thick cock. Dirk tells him to assume the position and so he does.
Nicholas bends over and spreads his legs
so we all can get a good look at his
sexy tight virgin hole
. He listens to every command from Dirk and when he's done he flips back over and continues to play with is balls while he tugs on every inch of his big dick.
You know the climax is coming when you see Nicholas start to stroke his cock faster than anything you've ever seen before.
His hands are quick firm and don't let go until his cum
starts to spray in every direction covering a vast area. Nicholas probably has one of the sexiest cum shots we have seen to date.